My Breakfast With Bockwinkel
I had the opportunity to attend the 3rd Annual Eddie Gilbert Memorial in Philadelphia this weekend. Bob, a buddy of mine, lives in the Philadelphia area and asked me if I'd like to go along with him. Hey, I'll go to any card with King Kong Bundy on it.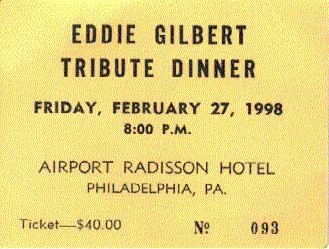 So, I drove up to his office Friday afternoon, and we went off to the Radisson at the airport. The dinner was at 8:00, and we got there a little early. Fabulous Moolah and one of the retired lady midget wrestlers were in the lobby. Jim Cornette was there, saying hello to everybody, and Bob introduced me to him. Tommy Gilbert (Eddie's dad) was there as well. There were a lot of the young guys who are currently working with the NWA there working the show. At an event like that, just by the way they are built you can tell who the wrestlers are.
You know it's going to be a weird weekend when Fred The Elephant Boy was hired to say grace before the meal! As for the dinner seating, other than the head table, all the tables were unreserved. So, if you really wanted to, you could sit next to anybody you wanted. While the major stars of the following night's card, such as Bundy and Sid Vicious, were not there, all the guys from the local promotion were there. We had a couple of them at our table, and they were extremely nice and very talkative.
While dinner was being served, they presented awards. Lifetime awards were given to three people: Nick Bockwinkel, Bobo Brazil, and Dory Funk, Jr. Nick and Dory got up to speak, and a couple of Bobo's kids got up to speak. For all three people, they showed a short video of them in action. At the end, a special achievement award was given to Brian Hildebrand, aka referee Mark "Shooter" Curtis. Mark Curtis, like Jim Cornette, is one of those guys who grew up with a love for the wrestling business, and has given their life to it. In fact, Mark Curtis has been in the wrestling business for over twenty years. As many of you may know, Mark Curtis was operated on for stomach cancer some time ago. He talked about how tough it was coming through that. In fact, they thought it was ulcers and didn't realize it was cancer until they opened him up to operate on the ulcers. He's lost a lot of weight since we last saw him. He said he refereed his first match since coming back the previous weekend, would be reffing the card the next night, and will be making his return to Nitro shortly.
A comical highlight after the dinner was when they brought up Franz Schumann to answer some questions. He is a German guy who holds the CWA belt who would be challening Dan Severn for the NWA World Heavyweight Title the next day. Someone started to ask a question, and Schumann, who doesn't speak good English, asked the guy to speak slowly and more clearly. The guy goes, "The...question...was...not...for...you..."
At the end, the Gilberts talked about Eddie, and a video was shown with some clips of him at his best. It was sad, and a number of people got emotional. I cannot imagine how tough it must be for the Gilberts to go through that every year.
After dinner, there was a break. Stevie Richards was out there talking to a few people. He definitely has some damage to his vocal cords as his voice was really scratchy and quiet. But, on the bright side, otherwise he physically looked good and seemed to be at the spirits. Stevie hadn't attended the dinner and I didn't see him at any other point during the weekend. I'm guessing he's a local boy and just stopped by. During the break, I got an opportunity to be introduced to Nick Bockwinkel. For me, that was an incredible thrill. We chatted a bit and I, of course, told him what a big fan I was without trying to act too much like the mark that I am.
At midnight they had a question and answer session along with a pizza party. Nick Bockwinkel was first. A number of people asked him questions. Among the many answers, he said that by far, Ray Stevens was his favorite tag partner. My favorite question was when someone asked Nick what really happened that night in Denver when Stan Hansen left the arena and, as a result, forfeited the AWA World Title to Nick on June 29th, 1986. Nick's answer was that Hansen felt it was more important to take the belt with him on his upcoming tour of Japan than it was to defend it, and possibly lose it, to Nick that night.
Jim Cornette got up there, and he was an absolute riot! He probably went for well over an hour and was obviously enjoying himself. He answered questions about the Midnight Express, the WWF, and even falling off the scaffold ten years ago and shattering his knee. The absolute best question was "Whose idea was it to come up with the Ding Dongs?" Now, somebody asking the question is funny enough, but I was absolutely hysterical after he gave his answer (as I remember it):
You know, it's funny. That was Jim Herd's idea. To show you how much this guy was in touch with the wrestling business, his idea was "Let's have a tag team with bells on their neck, bells on their ankle, and bells everywhere. And we'll have them come out with a big bell, and whenever one of them's getting beat up, the other will ring the bell and he'll get fired up. The kids will love it."
Of course, when the Ding Dongs came out, this is how the kids felt about them [flips the bird]. But, the best [said sarcastically] idea Herd had was one you never got to see. After the rousing [said sarcastically] success of the Ding Dongs, Herd came up with the Hunchbacks. These guys would both have hunchbacks, no kidding. And their gimmick would be that it would be impossible to pin them because you couldn't get their shoulders down due to their humps. [crowd chuckles] No, don't laugh! I'm not making it up...Herd was serious!! So, he pitches the idea to Ole Anderson and Ole, dead serious, says "Just book them against Arn and I and I'll make them quit with a spinning toe-hold." Herd bunches his fists and gets mad and storms out.
After that, I was tempted to ask, "Anybody know what the Mulkey Brothers are doing now?"

They then brought Devon Storm of the Extreme up to answer questions. The crowd just sat there and no one asked him anything. So, I got up and asked the Devon his first question to get things rolling. "Were you more nervous wrestling on Nitro for the first time than in front of a small local crowd?" Yep, I lobbed him a softball.

A little later, I asked the question you all would have wanted me to ask. Mark Curtis was one of the panelists, and I asked all the panelists "All of the major promotions have had well-publicized incidents of fan violence in the past year. Do you think the problem's getting worse?...[looking at Mark Curtis] In fact, Mr. Curtis, I think Pee Wee Anderson's ahead of you by a score of 2 to 1 beating up fans in the ring on live TV." That got a good chuckle from everyone. Generally, everyone agreed that the problem is getting worse, but that the big problem is not fans rushing the ring, it's fans throwing stuff. In fact, Mark Curtis said he would have taken a thrown glass bottle in the head one night if Randy Anderson hadn't pushed him out of the way at the last second.

So, the big news of the evening for me was that Bob had arranged for us to have breakfast with Nick Bockwinkel the next morning. That's the good news. The bad news was that by the time we got back to his place, we were only able to get two hours of sleep before getting up again.

So, Saturday morning, we got to have breakfast with Nick Bockwinkel. On the surface, one might think that being classy and being down-to-earth are somewhat exclusive of one another, but in Nick Bockwinkel's case, they are not. You're talking about a guy who was AWA World Heavyweight Champion four times, for a total of eight years, one of them a four and a half year stretch. He was also AWA World Tag Team Champion three times with Ray Stevens. After all that, I never met such a classy yet down-to-earth guy, much less professional wrestler, in my life. For two and a half hours, we talked a little bit about computers, but mostly about wrestling and life in general. It was absolutely incredible. The only reason it even ended was because he had to go to the convention. All I can say is that if you ever get the opportunity to spend time with Nick Bockwinkel, don't ever pass it up.

After that, I went off to the convention. It was pretty much like the other pro wrestling convention I went to about seven years ago or so. Lots of photos, t-shirts, videotapes, etc. Being only two dollars, I picked up a used book of Leaping Lanny's poetry.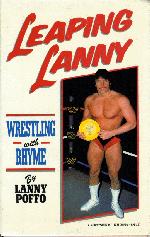 The funny thing is that I have one of those frisbees that he is holding. I caught it when he threw it from the ring in Poughkeepsie. I also got that picture of the Extreme, signed by Ace and Devon.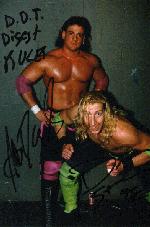 They are really a couple of nice guys. Cousin Luke was there signing pictures for a price. You could even get a copy of Tommy Lee's and Pamela Anderson's homemade porno movie for fifteen bucks. Of course, I would never buy that...
After I'd had enough of the convention, I walked around the hotel. I saw Sid Vicious get into the elevator, and I saw Rocco Rock walking through the lobby. I wandered into the bar and I ran into Rusty Riddle, also sometimes known as Bob Riddle. Rusty's been in the business as a preliminary wrestler over ten years, and he's spent a number of years in the WWF as well as WCW. Currently, he's wrestling in the independents. Really nice guy. I'd been introduced to him earlier and we sat in the bar for a while buying each other beers and talked about wrestling. We talked about all our favorite angles over the years. One of his best stories was about the weighlifting contest between the Road Warriors and Barbarian and Warlord some ten years ago. It turned into a melee with Animal getting his eye socket damaged. Rusty was there working, and something he told me that I didn't know was that at one point, one of the Road Warriors was on the ground, and the weight set with something like 600 pounds on it went rolling toward his head. All of the wrestlers in the back, including Rusty, went running out there in a legitimate panic to stop it, because if it had rolled on top of the Road Warrior's head, it would have crushed it like an egg. Rusty said it was a really scary moment.
I wound up running into "the real Nature Boy" Buddy Landel, who I'm doing some work for. Buddy's a really nice guy, too. For those of you who may have lost track of Buddy since his white hot days in the mid 1980s, he's been wrestling consistently since then: NWA, WCW, WWF, you name it. In fact, he was the Smoky Mountain Heavyweight Champion and TV Champion as recently as 1995. He was also the IWA Heavyweight champion in 1997. Buddy's in great shape these days and is gunning for Ric Flair and anybody else who wants a piece of him. I talked to him for a short while and I'll be doing a Web project for him shortly, so you can look forward to that.
Bob and I took Rusty out for a Philly cheesesteak at Geno's and then went back to Rusty's room to watch WCW Saturday Night before the show. Romeo Bliss, a young independent wrestler from the Philadelphia area was there, too. Another really nice guy.
Rusty, Romeo, and I went down to the show. I got introduced to Dory Funk, Jr. Man, the guy's got to be 55, but he could rip any one of us limb from limb. And the scary part is how quiet he is.
The card was in the hotel's ballroom. At most, 1000 people could have been there. The worst seats were no more than ten rows back. And, although there was security, no one prevented you from going right up to the wrestlers as they went to and from the ring, as you will see in the pictures. It's a much different experience that a WCW card. In fact, for most of the card, Nick Bockwinkel and Dory Funk, Jr. were just standing in the back of the ballroom watching the action. The intimate nature of the "arena" for the local cards is pretty awesome.
The results of the card, in short:
Overweight Lover pinned Johnny Rotten

Johnny Rotten looks and acts exactly like Sid Vicious, except he's a lot smaller.

Surfin' USA pinned Patch
Brittany Brown w/Fabulous Moolah defended her belt by pinned Brandi Alexander w/Fred The Elephant Boy

Britteny Brown is cute, but Brandi Alexander is way hot.
Fabulous Moolah took a couple of bumps. She's got guts.

The Great Caruso pinned The Metal Maniac.

The Metal Maniac gave us a full moon during the match.

Rik Ratchett defeated Steve Corino

Ratchett's gimmick is that he's a Ric Flair-wannabe.

Marlena won her arm-wrestling match against Sunny by forfeit when Sunny no-showed.

The big rumor on the 'Net was that Sunny did legitimately no-show the previous weekend, so she was fired from this show.

Lance Diamond defeated Twiggy Ramirez.
The Extreme w/Jim Cornette won the U.S. Tag Team Titles by defeating the Misfits.
NWA World Heavyweight Champion Dan Severn made CWA Champion Franz Schumann submit to an armlock.
Sid Vicious pinned King Kong Bundy.
Tommy and Doug Gilbert defeated Dory Funk, Jr. and "Nature Boy" Buddy Landel when Tommy Gilbert pinned Funk using the ropes.

The crowd went "Whoo!" every time Buddy landed a chop.
Landel got busted open during the match.
After the match, Landel held Tommy Gilbert down while Dory applied the spinning toe hold until Doug made the save on his dad.
After the card, I took one elevator ride with the two lady wrestlers. I couldn't even say a word to them as they were dressed in street clothes and look gorgeous. I was totally tongue-tied. A few minutes later, I took an elevator ride with Dan Severn. Talk about a guy having a presence.
The last ride was with a sweaty, as-yet-unshowered King Kong Bundy. I gave him a nod, and he gave me a nod and a little smile that truly acknowledged my presence. It may seem minor and kind of weird for me to notice that, but he could have given me a little blow-off "yeah, whatever" nod, but he truly acknowledged me. Hey, I'm a big mark, and that meant a lot.
But the true comedy is just the fact that I was riding an elevator with a sweaty King Kong Bundy. Can you imagine a scarier elevator ride? I can't, unless it was with a sweaty Sid Vicious...and he had a pair of scissors.
Click here for pictures from the show.
---
Back to DDT Digest