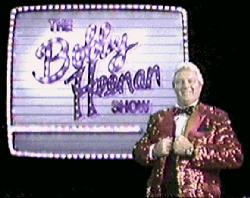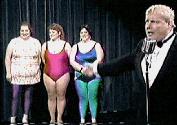 Lord Alfred Hayes introduces the lovely ladies that will be escorting the guests...The Oinkettes

The Brain's first guest is Jameson. The Brain had thought Jameson was the head air traffic controller at LaGuardia airport. It turns out that Jameson was an unemloyed nerd. As a result, Jameson would stay on as Bobby's permanent co-host. (Since originally posting this feature, "FrogSplash" wrote to tell me that the guy who played Jameson on the Bobby Heenan Show is now the host of The Pet Shop on Animal Planet. His name is Andy Kindler.)

A close-up of Jameson. Yes, that's tape on the bridge of his glasses and a safety pin on the left side.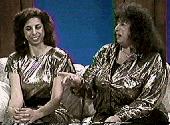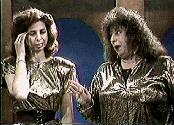 The Brain's second guests, Penny and Coco, a mother-daughter comedy act.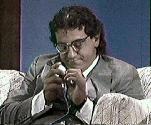 Penny and Coco were horrible. The Brain reacted to their act with yawning and insults. Jameson fiddled with his asthma inhaler.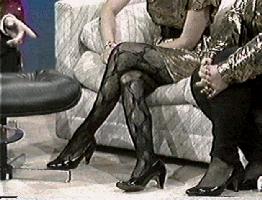 The Brain ends the show on an up-note by pointing out what nice legs Penny has.
---