Day 1 – Mile 0 to Willowbrook, IL
Saturday, October 29, 2005
(Preface: I did my first Old Route 66 trip on a motorcycle in May 2003 with a group from the American Motorcycle Association, aka the AMA. So, when you read me referring to "my first trip", that's the one I'm talking about. That trip officially started in Willowbrook IL at around Mile 20 on Route 66 since there is so little "Route 66 stuff" to see on the first 20 miles of Old Route 66. However, I arrived a day early so I rented a car and drove that stretch.
For the 2003 trip, I didn't do much research, and I rode mostly alone. So, while I stayed on route, there's a lot that I missed. So, on this trip, I try to make up for it, and we officially start at Mile 0.
Also, many of the linked pictures in this document go to pictures from my first trip. It's a little cheesy to do that, but since I took the pictures myself, I figure it's not out of line.)
We arrived at O'Hare Airport early afternoon. The traffic on a Saturday afternoon on I-90/I-94 was a nightmare. It moved, but it was crawling.
Via Exit 51E and Monroe Street, we went around to Lake Shore Drive to see the original beginning of Route 66, the intersection of Jackson Boulevard and Lake Shore Drive.  On the way there, we passed the Buckingham Memorial Fountain, which is made famous in the opening credits of Married With Children. There was nothing notable about the intersection although I had thought that Jackson Boulevard was one way going east at that point and we wouldn't be able to get on it at all. Actually, the last two blocks of Jackson are two way. So we were able to take a right turn on it to officially begin the journey. Two blocks on that and a mandatory right turn onto Michigan, and then the next left onto Adams when the Chicago School of Art's Museum is on the right. There is a "Begin Historic Route 66" sign up high on the right when you get on Adams to let you know that you are in the right place. Given that you can start out at the original beginning, it's odd that they don't mark that point instead.
<![if !vml]>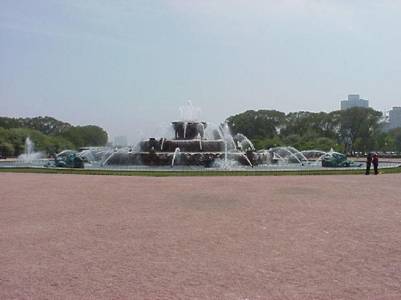 <![endif]>
Buckingham Memorial Fountain
<![if !vml]>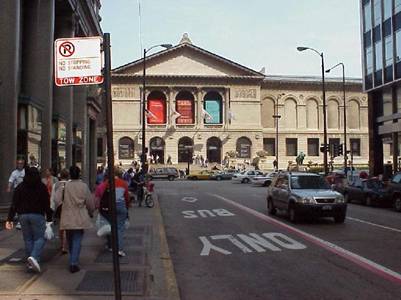 <![endif]>
Chicago School of Art's Museum
<![if !vml]>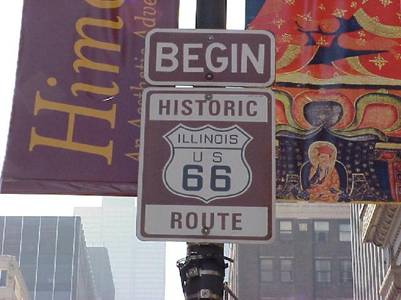 <![endif]>
"Begin Historic Route 66" Sign
We saw absolutely nothing notable on the first 2.3 miles of the old route on Adams. Although there was very little traffic on Adams, the traffic lights were timed extremely poorly for a one-way street. The lights turned red on us every other light. Of course, that may be why no one was using that street. It was so frustrating that we gave up on the idea of looping back to drive by Lou Mitchell's on Jackson Boulevard. We just wanted to get out of downtown. Interestingly, the buildings on either side of you on Adams are so tall that my GPS didn't work. Once we got out of downtown, everything was fine.
A lot of the 6.5 miles of Ogden Avenue was a sketchy neighborhood. Very run down, but not as bad as I remember it from May, 2003. You're fine in a car in the daytime, but I wouldn't walk it at night. You drive through Douglas Park, one of Chicago's biggest and oldest parks, but unless you stop and get out, there's not much to see from the road.
The Castle Car Wash building at 3801 W Ogden is still standing, so that was kind of cool. The enormous Western Electric plant on the right just after the intersection of Ogden and Kostner is interesting to look at. It looks to be abandoned now, but at one time virtually all of the telephones in the US were made there.
You really don't get a feel for Cicero on Ogden. We missed the Cindy Lyn Motel. I didn't know if it's gone or we just didn't see it. Henry's Drive-In is still in business on the left several blocks down from where the Cindy Lyn is supposed to be.
The left onto Harlem and right onto Joliet Road/Avenue didn't hold anything really worthwhile, other than a prostitute strolling down the road. That first stretch of Joliet is a nicely laid out road, however. There is a small, well marked detour you'll have to take at one point on the 7-mile stretch of Joliet Road. The most notable Route 66 icon on this stretch of Joliet Road is the Wishing Well Motel on the northeast corner of Joliet and Brainard. The Wishing Well Motel is now closed, and it's for sale. I'm kind of annoyed with myself that I didn't take a picture. I guess I was scared off by all the "No Trespassing" signs. If you bought it and really wanted to keep it as a motel, it still seems to be in decent shape. However, I'm guessing the land is more valuable for other purposes at this point. In contrast to many other abandoned motels being forgotten on a lonely stretch of the old route, this one is the opposite. It's being swallowed up by encroaching suburbia. The actual wishing well is still there in the yard.
Where Joliet Road merges with I-55, just about every Route 66 map tells you to temporarily give up the good fight and get on I-55 South for about six miles until Joliet Road branches off again. In fact, there's even an official highway sign telling you to do just that if you are following Old Route 66. However, from my last trip, I know that would cause you to miss at least one Route 66 icon as there is still at least one very short segment on the frontage road on this stretch that was part of the old route. However, since the pieces of the frontage road that were part of the original route are so short and they are really hard to follow, it's not worth it for most people.
Case in point, Dell Rhea's Chicken Basket (http://www.chickenbasket.com/) is at 645 Joliet Road, where the frontage road dead ends just before Kingery Highway. Dell Rhea's is a Route 66 survivor. The frontage road up to that point coming from Chicago wasn't original, but right at Dell Rhea's there is a very short stretch up to the dead end that is original. It still even has the original roadbed. Dell Rhea's is highly recommended. I went there on my first trip as well. It was the juiciest fried chicken I've ever had. Not as bready as some other friend chicken I've had, but it was still really good. Also, the Route 66 Beer brewed specially for Dell Rhea's was quite good.
<![if !vml]>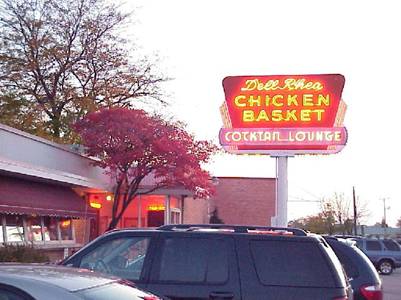 <![endif]>
Dell Rhea's Chicken Basket
We stayed at the Holiday Inn that is close by. Actually, it's within walking distance of Dell Rhea's. There's nothing particularly notable about the Holiday Inn other than it's where I started the trip last time and it's a good location. If you are flying into Chicago to do this trip, it's far enough out of city so that you don't have to struggle to get out of Chicago on your first long day of driving, but you can get there quickly from O'Hare Airport. We paid $116 plus tax, which included the AAA discount. One big plus to this place is that they have free wireless Internet in all the rooms. The one downside is that the fire alarm went off with two false alarms during the night. One at 3:30 in the morning and the other at 4:00 in morning. I'm sure it's an anomaly, but it was still weird. But, like I said, it's a good location to really start your trip. (As a side note, I've been telling my wife who is seeing Route 66 for the first time that the old route really begins at the Gemini Giant.)
From Mile 0 to Willowbrook, the old route is well-marked and easy to follow. There's really only a few turns until you get to I-55. Just keep your eyes peeled since there are a million other signs in the busy city as well.
Day 2 –Willowbrook, IL to Springfield, IL
Sunday, October 30, 2005
As a follow-up note to the Willowbrook Holiday Inn this morning, in addition to it being a hotel, it has a large banquet facility at which there seemed to be at least one good-sized wedding last night. This morning on our hallway, it seems that a gentleman felt that his significant other had another man in her room. So, in a scene straight out of Cops, he was banging and kicking her door saying "I know you've got a ****ing man in there, you ****ing ****!!!! Open the door so I can kick his ass!!!! If you haven't got a man in there, prove me wrong!!!! My brother was right about you…you're a ****ing ****!!!!"  Figuring that she was behind a locked door and, if I went out to see what was going on, I wouldn't be behind a locked door, I just called the front desk and told them what was going on. The angry gentleman went away before the hotel sent someone, assuming they ever did. So, this was a second incident that may make you want to stay away from the Willowbrook Holiday Inn.
The Willowbrook Holiday Inn has a small fitness room. The Universal machines they had there were kind of worthless, but there were two working treadmills and a recumbent bike, so we both got a short workout in.
As noted on Day 1, skipping the frontage roads in the Willowbrook area would cause you to miss Dell Rhea's Chicken Basket. So, upon leaving the Holiday Inn, we tried to see if there was anything else notable on the frontage roads going west to where Joliet Road splits off again. Actually, in my DeLorme mapping software, part of the frontage road is marked "US Route 66", so that looked promising. In the end, doing those pieces was a waste of time. There wasn't really anything to see, and it took forever to do. So, lesson learned…the signs were right.
It was kind of a hassle finding Joliet Road after all that. We had to cut through an industrial park, but we finally found it. We passed by the usual sites on the way to Joliet. The White Fence Farm look like an classic Route 66 chicken restaurant, but I'd never heard of it.
In Joliet proper, we kept getting turned around due to one-way streets and blocked streets. We drove by the Joliet Opera House and the Rialto Theater, but with it being Sunday morning, they weren't open. We stopped at the Milano Bakery (since 1915), and got some goodies for the trip.
<![if !vml]>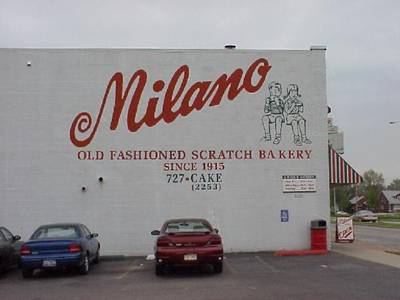 <![endif]>
Soon to celebrate their 100th year
Leaving Joliet, look for the VFW Post with a tank parked out front. We had a tough time staying on the old alignment going into Elwood. (Remember, follow the telephone poles!) Eventually, we figured it out.
<![if !vml]>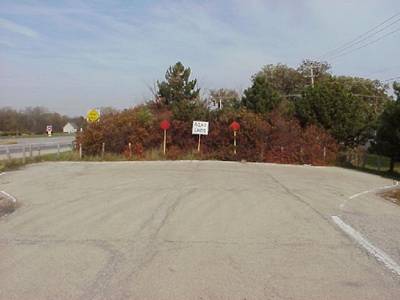 <![endif]>
That sign says a lot
We got into Wilmington and saw our friend the Gemini Giant. In one of the Route 66 documentaries, the owner of the Wigwam Motel in Holbrook was quoted as saying "Everyone comes here to take pictures, and they say they are going to stay here next time, but they never do." Keeping that in mind, I felt it only fair that we actually ate at the home of the Gemini Giant, the Launching Pad (http://www.launchingpadrt66.com/). Their hours are interesting…they open at 9:00 a.m. every day, but they don't serve breakfast food. We each got a burger, and I had some ice cream. The burgers were okay…it reminded me a lot of the way burgers taste at McDonalds (which I like). Elsewhere in Wilmington, the Eagle Hotel, the oldest hotel on Route 66, is in complete disrepair. We couldn't find the Octoganal House which had been marked on a map I had.
<![if !vml]>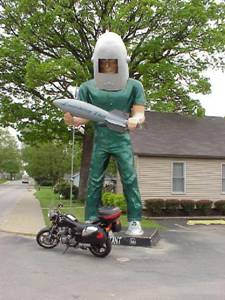 <![endif]>
Probably the greatest example of roadside architecture ever
We drove around Braidwood a bit, which was a waste of time. We were hoping to see the promised mining structures and old tourist courts, and we didn't see anything. Godley was worse…that town really looks awful. Braceville didn't have anything of note. We tried to find the restored two-cell jailhouse in Gardner, to no avail.
Dwight was a cool little town with an interestingly laid out downtown section. The bank designed by Frank Lloyd Wright and the stone train station are worth a look.
An interesting note about Dwight and many of the following towns is that you see Route 66 as a frontage road to I-55 and, as you get near the town, I-55 veers off to go around the town. What's interesting is that when I-55 veers off, the really old abandoned alignment of Route 66 usually appears alongside of you. As you are leaving town and I-55 starts paralleling you again, the old alignment disappears because that land was taken for the interstate.
It's also worth noting that in a number of these towns, there was a "City 66" through the center of town and a "Bypass 66" around town. City 66 was the original route that went right through the center of town, and Bypass 66 was added later as highways evolved to go around towns instead of through the center of them. It's a mixed bag as to which route the Route 66 historical signs will take you. Some take you City 66, some take you Bypass 66, and in at least two cases today, both were marked, with City 66 being marked as the "1930 – 1940 Alignment".
Odell is a great town. The old Mobil station, the house with the gas pumps, the site of the old pedestrian tunnel, and the restored filling station are all within walking distance of each other. The old filling station was actually open this time, and we got to look around inside. The volunteer there, Nathan, was a really nice guy and knew a lot of the history. We bought a t-shirt and a Route 66 do-rag to help fund their preservation efforts.
<![if !vml]>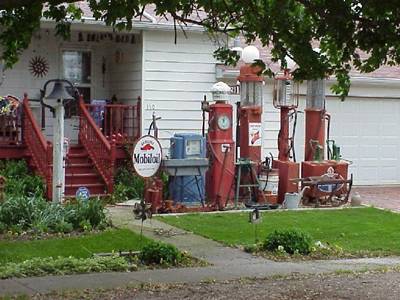 <![endif]>
Now THAT is an awesome front yard
<![if !vml]>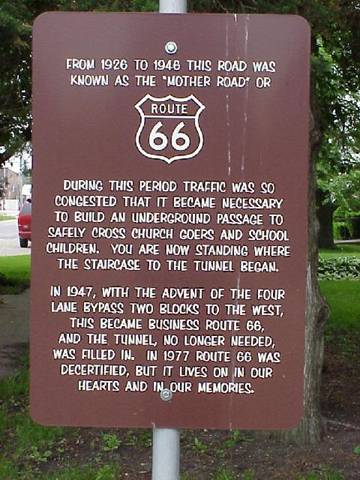 <![endif]>
Sign of long ago
<![if !vml]>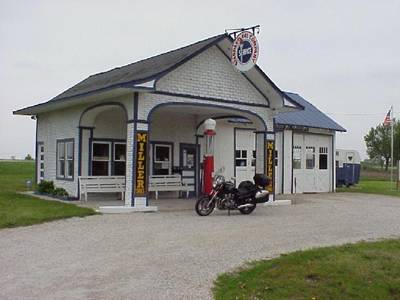 <![endif]>
Fill 'er up!
On the way to Pontiac, there is a Meramac Caverns barn. There will be a sign for "Historic Route 66 Turnout" that will lead you to the parking area for it. The only thing really worth noting in Pontiac was the old Log Cabin Inn. We did see the old police HQ leaving town, but there's no way to appreciate its being shaped like a pistol as you drive by. We didn't note anything particular in Chenoa.
<![if !vml]>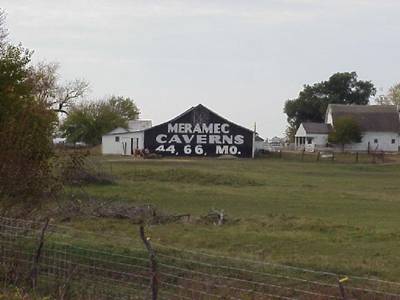 <![endif]>
It's bigger in real life
Just before you come into Lexington, there is Memory Lane. It's a half-mile or so stretch of the old Route that's gated off as a park. Given our logistics for driving today, it was perfect timing for us to get out and stretch our legs. There's a couple of billboards along it, as well as a set of Burma Shave signs. There is also a picnic table at the beginning of it. Where Memory Lane starts, there is also another alignment on the other side of the driveable old route that has been paved over and turned into a 2+ mile walking and biking trail. And, in reality, it connects with an abandoned alignment outside of town and continues indefinitely.
<![if !vml]>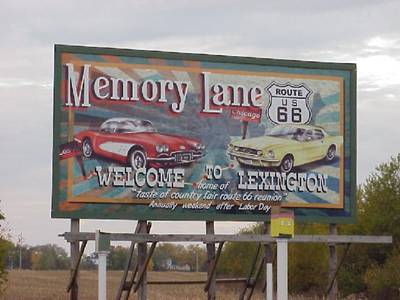 <![endif]>
Memory Lane, Lexington, IL
Didn't see anything particularly notable in Towanda. Since we were running short on time for the day and there didn't seem to be anything really notable in Normal nor Bloomington, we took the business loop around the cities (not the Interstate!).
In Shirley, there is something that you must do. There is a very abandoned piece of road that is seemingly legally driveable. It may not have ever been part of Route 66, but it is a road that was severed when the Interstate came though and, since it seemingly wasn't a primary road, the Interstate cut it in half, leaving it dead-ended on both sides. To see it, when you get to Shirley take a left and then jut to the right towards a "Dead End" sign. You can follow that for a good 2/5 of a mile until it dead ends at the Interstate. The road goes nowhere…not even to a driveway, and it's very overgrown. I stumbled on this road on my first trip as well, but hadn't marked where it was.
<![if !vml]>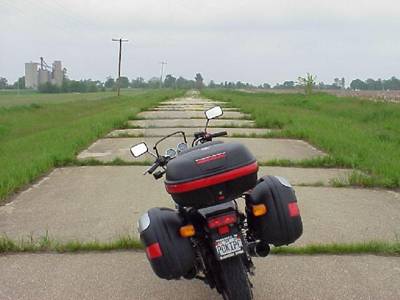 <![endif]>
Abandoned Alignment in Shirley, IL
We burned a lot of time in Funks Grove because we thought the place where they sell the sirup (sic) was actually in Funks Grove. Actually, the place where the sirup is sold is further down Route 66 on the left. They were, of course, sold out.
Went to the Dixie Truckers Home in McLean. Definitely worth a stop. They have a very small but really good Illinois Route 66 museum, and you can pick up provisions. And, most notably, there was a Stuckeys there, so you can get nut logs of all different sizes!
The muffler man holding a hot dog is a must see in Atlanta. In addition to the thrill of seeing the muffler man, there have a plaque with his history, which is totally cool. Likely, the reason I didn't see him on my last trip is that Bypass 66 was marked in this town. You need to do City 66 to see the muffler man in Atlanta.
<![if !vml]>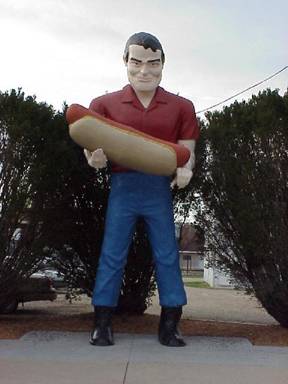 <![endif]>
That's a big hot dog
In Lincoln, we never could find the Watermelon Slice Monument. The Mill Restaurant, about to be torn down, is really sad. Leaving Lincoln, if you get on Cobblestone Avenue, you will find yourself on a brick street and eventually hit a Road Closed gate in a cemetery. Supposedly, that is an old alignment and there is an old bridge down there. We got out to take the walk, but there was the sound of continuing gunfire from back in there, so we took a pass.
As for the Pig Hip in Broadwell, since it was Sunday, the museum was closed. As for the Pioneer Rest Motel next door…there's no nice way to say it, so I'm going to say it like it is. It's obviously a welfare motel now. There were filthy kids playing in the dirt out front, there was garbage and junk everywhere on the property, and many of the doors to the rooms were open and you could see the junk piles inside. Honestly, it looked a commercial for poverty in a third-world country. It was awful.
We didn't see anything notable in Elkhart. In Williamsville, Die Cast Auto was closed. Likely not open on Sunday.
Coming into Springfield, we saw the Pioneer Motel. We didn't see the "skinny Lincoln statue" at the fairgrounds because we never saw its location at Gate 1. We were too late to see Lincoln's Tomb since it closes at 4:00.
We stayed at the Mansion View Inn in the center of downtown Springfield, IL, where I stayed on my first trip. It's not a bad place, $69 on a Sunday night, continental breakfast in the lobby, but it was really empty. Literally, we were the only car in the lot and it was spooky. I guess that in a business district in a state capital, you don't do a big Sunday business. The good news was that it seems that due to our being their only guest, they upgraded us to a suite for free. The bad news is that a railroad track was right outside our window…like 20 or 30 feet away. There was no wireless Internet that I could find, so we dialed in on a local Earthlink number. Local calls were free, so it didn't cost us anything.
One of the other perils of staying in a business district on a Sunday night is that there is almost nothing open. We had planned on going to the Cozy Dog drive-in, but they are not open on Sundays. The fallback plan had been the Coney Island restaurant, but we found that they are only open weekdays for lunch. The lady at the desk agreed, there is almost nothing open on Sunday night, and she sent us to Saputo's Italian Restaurant at the corner of 7th and Monroe. Saputo's is an old school Italian restaurant, and it was outstanding. Upon walking in, I realized that the place was the same restaurant I went to on the previous Route 66 trip. I think that was on a Sunday night, too, because I remember Springfield being dead. It would be a nice walk in the daytime from the Mansion View to Saputo's. However, at night time, the streets are so empty that it's a bit dicey.
Day 3 –Springfield, IL to Cuba, MO
Monday, October 31, 2005
Well, the railroad track outside our room certainly came into play. In addition to the trains we heard before going to sleep, a really loud one came through at 2:00 a.m. The whistle was blowing, the bell was clanging, and the room was vibrating for five minutes. It was straight out of that episode of I Love Lucy. So, between the fire alarms the previous night and now this, we're having trouble getting a good night's sleep.
<![if !vml]>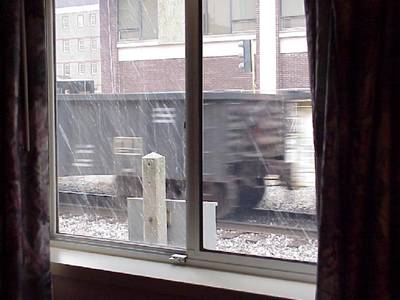 <![endif]>
View outside of our window...yes, that train is blurry because it's moving really fast
The Gold's Gym in Springfield is really nice. Seems to be brand new, and it's highly recommended. It was less than a 10 minute drive from the Mansion View. They had a pool, and the guy at the front desk didn't charge us to use the facility.
Hit another detour today (we hit several yesterday), so we had to change the order of things. We went to the Cozy Dog first. The cozy dogs were the best thing we had there. Andrea had one, I had two. We then looped around to see another Muffler Man on Wabash Ave. His name is Paul Bunyon (sic, to avoid copyright trouble) and he is holding an American flag. I had expected him to be holding an axe, so the flag may be fairly new. It was raining pretty hard, so we didn't get out. We took a picture from across the street and got out of there.
<![if !vml]>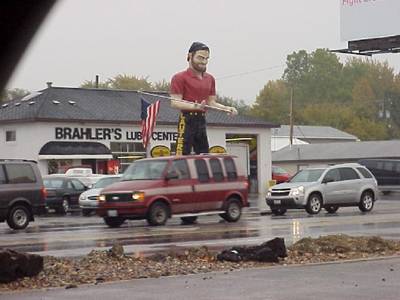 <![endif]>
Illinois is land of the Muffler Man
Going across Lake Springfield, you have no choice but to get on the Interstate, since it's the only bridge. We checked out both sides of where old Route 66 went and was flooded over when the lake was built. There was nothing to see on the north side, but on the south side, if you go past the marina, you can see an abandoned four lane section that is worth a look.
It was obvious the older, unmarked route on Highway 4 that I took on my last trip was the better route. I highly advise anyone going from Springfield to Staunton on the old route to do Highway 4. The marked route for the stretch from Springfield to Staunton is pretty much the frontage road for I-55, and it really didn't have anything notable to see, other than Our Lady Of The Highways. On the flip side, we made really good time.
<![if !vml]>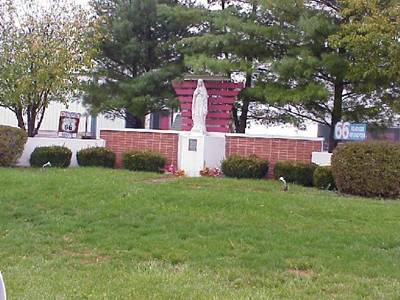 <![endif]>
Our Lady of the Highways
Henry's Rabbit Ranch is a must stop in Staunton. He's got decent souvenirs and he's got very friendly rabbits. No joke, I was petting one of the rabbits and it got up on its hind legs and gave me a hug. Henry's Rabbit Ranch also has a couple of the old Campbell's Express "Humpin' To Please" trailers.
<![if !vml]>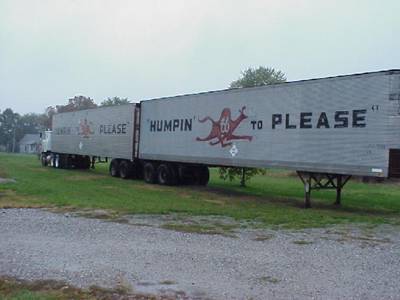 <![endif]>
The scene at Henry's Rabbit Ranch
At this point, the rain really became the overwhelming factor in our day. It didn't really let up all day, so I was really thankful that I wasn't on the motorcycle. Another thing that is becoming obvious is that 200 miles a day is too long if you really want to stop and do stuff…especially off season. You don't have that much daylight and many places have shortened hours, if they are open at all.
The next notable thing was the last stretch of Chain Of Rocks Road leading up to the bridge. A few very old motels and an abandoned gas station are on that stretch which is now more or less a dead-end. The rain was so bad that we didn't get out of the car at the bridge.
<![if !vml]>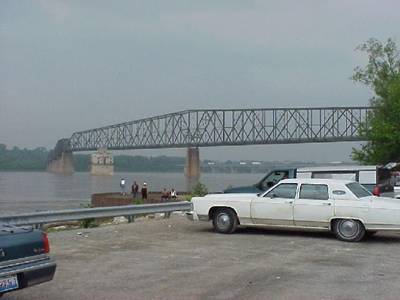 <![endif]>
As seen in the movie Escape From New York
Given the route we were taking to avoid bad areas in East Saint Louis and Saint Louis, it was only a short diversion to go see the World's Largest Ketchup Bottle in Collinsville, IL. It was OK, but really it's not that big a deal. As pressed for time as we were, we probably should have skipped it. If I were you, I'd only bother if you have a lot of free time, since it's not a Route 66 attraction.
<![if !vml]>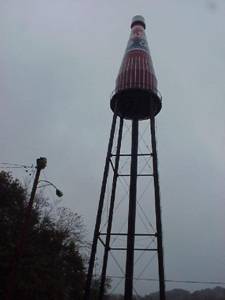 <![endif]>
Well, there it is
Going into Saint Louis, the rain and fog made it so we could barely see the Gateway Arch as we went over the Poplar Street Bridge. On my first trip, the guys who set up the route took us around Saint Louis on the Interstate instead of through it on the old road. Now I understand why…there really is nothing in Saint Louis related to Route 66 other than Ted Drewes Frozen Custard. We had our hearts set on the custard, so we stuck it out, but really the driving was not at all enjoyable. There wasn't even a visible remnant of the Coral Court Motel as we drove by. The custard was very good, so it was neat to have gone there. So that's something. I got the vanilla concrete with Heath Bar and Macadamia Nuts. The place itself was a lot smaller than it looks in all the Route 66 videos.
We jumped on the Interstate earlier than we needed to, just so we could get out of Saint Louis. Given the pouring rain, we bypassed Times Beach / Route 66 State Park. There were no remnants of the original town that were visible from the Interstate. It just looked like a regular park.
Where you can get off the Interstate back on to the old route at Exit 261, there is a Six Flags Amusement Park that, oddly, hasn't been mentioned anywhere in any of the books I've seen. I guess it's not a "Route 66 attraction", but it is a notable landmark.
North of Pacific, the caverns into the mountains for silica mining are pretty impressive. Along this stretch, we saw many of the famous restaurants (e.g. the Red Cedar Inn) and old motels.
With the weather so bad and nothing all that notable to see, we jumped back on the Interstate until Stanton. There, it was a 1-2-3 punch. The Jesse James Museum was closed for the season, the Antique Toy Museum which is open "By Chance" was closed, and it seems that Sullivan Pottery is out of business. So, Stanton was a washout. On this stretch, you parellel the Interstate, and you get to see some interesting dueling billboards.
<![if !vml]>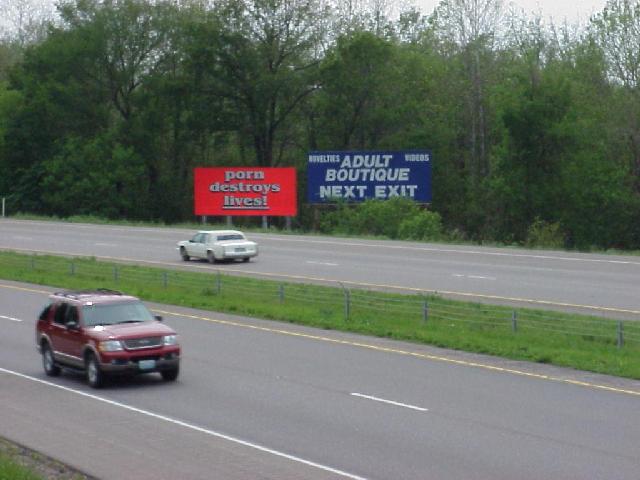 <![endif]>
Awesome
At this point, we were close enough to the day's goal of getting to Cuba that we decided to stick it out on the old road. Sullivan supposedly had one of the last ax-wielding muffler men, so we tooled around there but couldn't find it. I stopped in an auto parts store to ask a local about it, and he said that it used to be at the Flying J. The station got a new owner and the guy with the axe is now gone. So, there you go. Otherwise, the other notable thing was that it was Halloween, and the downtown business area was teeming with kids trick-or-treating at the local businesses.
We didn't really see anything particular notable in Bourbon. I didn't stop to take a picture of the Bourbon water tower since I got one on the last trip. We couldn't see anything of the Hofflins ghost town from the old road. If we'd gone into what looked like a run-down residential area, we might have seen more, but it didn't look particularly inviting.
<![if !vml]>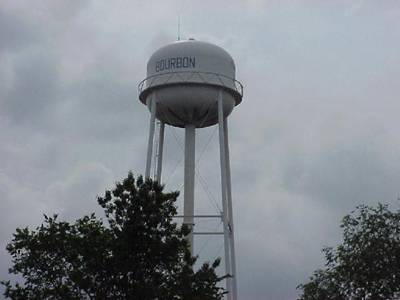 <![endif]>
Where's Otis?
When planning this trip, I had decided to roll the dice in Cuba. Cuba is the one place we didn't have a hotel reservation in beforehand. While the idea of staying at the Wagon Wheel sounded interesting, the reviews on the place that I found on the Internet and received via e-mail were very mixed. A number of people online said "No way", but the guy at Henry's Rabbit Ranch said "You've got to stay there once, and it's clean."
It was pretty dark when we pulled into Cuba, and the neon sign for The Wagon Wheel was working, so that was a good sign. Well, sort of working…it worked perfectly facing the west, but I couldn't tell whether there wasn't a side facing the east or it just wasn't working on the east side.
We went to the office. Man, talk about "old school". I looked in and, literally, the office was the guy's living room. He was eating dinner with a couple other people when I knocked. He doddered over, he's definitely well over 80. The desk for the place was right in the middle of the living room. Someone who was watching TV turned off the TV to be polite…I felt bad because I'd totally interrupted everything.
Cost of the room, $16, including tax, cash only. He told us to go back out to our car, and he'd lead us down there. He got into his golf cart, and led us down back. It seems we drew the short straw, because we didn't get one of the stone cottages…we got one of the wood shacks out back…Room 18. He let us in, gave us a key, and he was on his way. The best way I can describe the room was that it was exactly how you'd expect a hunting cabin to be…rustic, not all that clean, cheap panel walls, no telephone. The bathtub was filthy and there was only one electrical outlet. There was no deadbolt on the door, the only lock was in the doorknob and that lock probably hasn't changed in 50 years. The shade and curtains were all tattered. On the plus side, the linens and pillows were very clean and the TV with remote control was new and it had a lot of cable channels.
Andrea was doing her best to be a good sport and say that she could stick it out. However, I guess it's part of having been together for ten years, married for five, that you can read each other's minds. Really, *I* started getting uptight about the place, and I figure that was because I knew it had to be getting to her even though she had a good game face on. She made a few calls on her cellphone as I sat there getting more antsy. Partially because I knew she couldn't be happy with this, and partially because I didn't get a good feeling about the security of the room. When she was done with her calls, I asked "You really don't want to stay here, do you?" Loving wife that she is, she said that she knew I was looking forward to staying here and she didn't want to ruin it. However, we decided that after two bad hotel experiences (the fire alarms and the train), it was time to cut our losses. We decided to write off the $16 as a donation to preservation efforts, and we'd bring back the key the next day as if we stayed overnight to prevent embarrassment on everyone's part. The entire experience was reminiscent of those stories where someone has to spend a night in a haunted house to win a prize. Well, we lasted maybe a half hour.
So, she tried calling a local B&B, and they couldn't take us, but they recommended the local Holiday Inn Express. The Holiday Inn Express was a short drive to the intersection with the Interstate. Like the Mansion View, it seemed to be completely empty. It's a new facility, extremely nice, with a pool, wireless Internet, and continental breakfast. Cost was $84.78, including tax.
For food, the lady at the front desk recommended Missouri Hick BBQ. She said "I don't even like BBQ, but it's so good there that I like it." Missouri Hick is at 913 E. Washington St. (phone: 573-885-6791), just down the street from the Wagon Wheel. In a word, it was outstanding. There was only one other customer in there and, likely, per what the owner of the Wagon Wheel told us, that was due to Missouri Hicks only recently being open on Monday nights. We both got the sampler platter, which was excellent. I had a local beer, Schafly, and it was extremely good. It was a great BBQ dinner experience. On the way out, we chatted with the owner (Dennis Meiser, the "Bar-B-Q King") a bit, since there were no other customers at the time except trick-or-treaters. We talked about Route 66 with them. It was the type of conversation that is the reason you took the trip in the first place, if you know what I mean.
Afterwards, we went back to spend a (hopefully) peaceful night in the Holiday Inn Express.
Day 4 –Cuba, MO to Carthage, MO
Tuesday, November 1, 2005
The Holiday Inn Express worked out well. A good night's sleep without any awakenings similar to the previous two nights.
The workout room at the Holiday Inn Express had two treadmills and two bikes. Both treadmills were broken, but the bikes worked. I was going to go running as it seemed to be a decent area for it, but it was 42 degrees out. So, Andrea and I did the bikes, and it was fine.
We went back to the Wagon Wheel to turn in our key and it went fine. I found the housekeeper out back and gave her the key and got the hell out of there. Andrea wouldn't even get out of the car.
Today was a much better traveling day than yesterday. The weather was perfect and we got an earlier start, so we were really relaxed on the drive.
Leaving Cuba, unfortunately none of the promised grape stands were open by the side of the road. Too late in the season, I guess. Mini-Henge in Rolla is worth the stop. Leaving Rolla, the Totem Pole Trading Post is a very good souvenir and antique shop. Definitely worth a look. Just down the road from that is Zeno's Steakhouse and Motel, where I stayed on my last trip. It's a decent place for eating and staying.
<![if !vml]>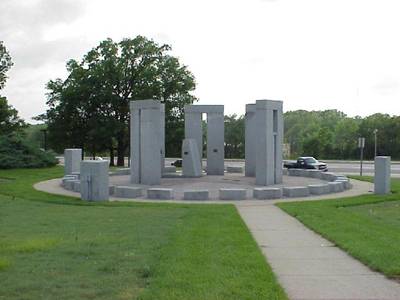 <![endif]>
Right smack in the center of Rolla, MO
Once you get out of Rolla, you really start getting on some forgotten back roads that used to comprise Route 66. On occasion, you will see the infamous half-curbs that are more prevalent in Oklahoma, but they are few and far between.
The dead-end frontage road to the remains of John's Modern Cabins and Vernell's Motel is gone…it's all dug up so there is seemingly no way to get back there anymore. According to my mapping software, that was the only way in. So, I don't know what more to tell you about that.
<![if !vml]>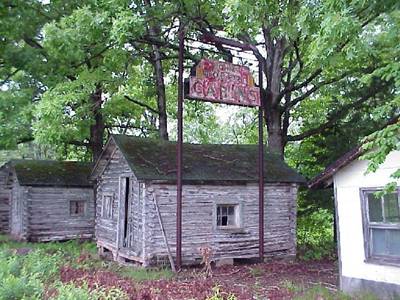 <![endif]>
John's Not-So-Modern Cabins
<![if !vml]>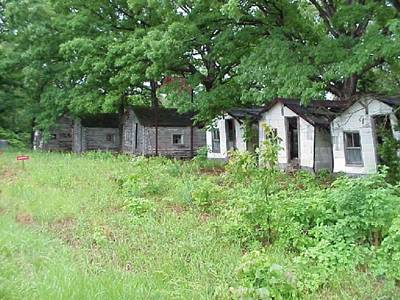 <![endif]>
Plenty of vacancies
<![if !vml]>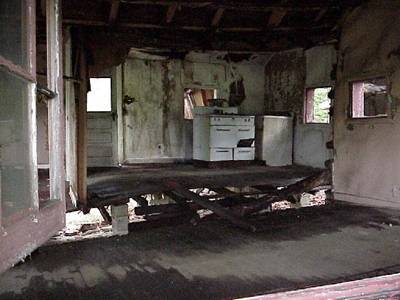 <![endif]>
Be careful not to trip on the way into the kitchen. The floor is a little uneven.
We got to see the Trail Of Tears Tribute. You can only see the front of it. There seems to be a lot more of it back on the property but it's chained off with Private Property and No Trespassing signs. For the record, while it may have been on Route 66 at one time, if you are following what's left of the old route and not backtracking to see the cut off parts, you won't see it. You are forced to get on I-44 at Exit 176 and take it to Exit 172 because there is no contiguous frontage road to get you between the two. When getting off at Exit 172, you take a left at the stop sign to continue following the old road. However, to see the Trail of Tears Tribute, you need to take a right at the stop sign and go about half a mile on a stretch that was part of the old road at one time. You will see it on your left.
<![if !vml]>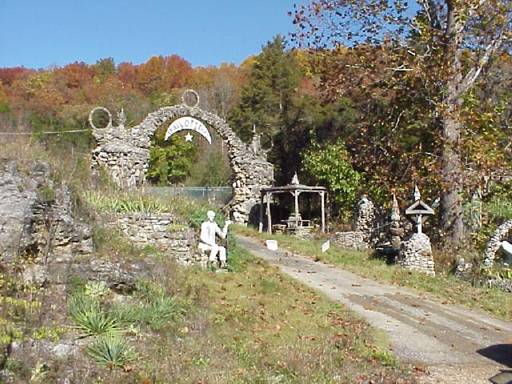 <![endif]>
Trail of Tears Tribute
The section of the road at Hooker Cut is pretty cool. It really gives you a feel for what a four-lane section was like on the old road. Devil's Elbow is cool, but you really have to know what you are doing because the historic signs do not take you down to Devil's Elbow…they keep you on the highway. It's worth noting that Devil's Elbow has its own post office, so you may want to mail your postcards from there to get a cool postmark.
<![if !vml]>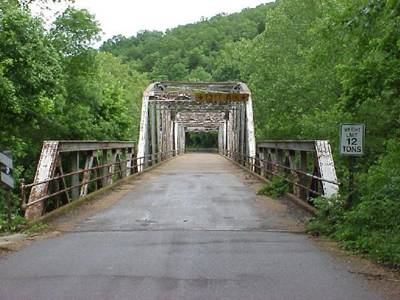 <![endif]>
Devil's Elbow Bridge
Once you get past Waynesville, you will start seeing more and more abandoned gas stations and restaurants on your way to Carthage. The frequency of the sightings increases as you go. It really turns into a nice stretch of road, too. Plus, you can see one particularly interesting pair of roadside objects. You'll also see a collection of windmills.
<![if !vml]>
<![endif]>
No comment
<![if !vml]>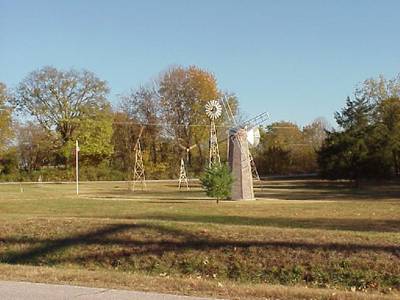 <![endif]>
Someone really likes windmills
On a comical note, we were all excited about going to Ballhagen's Puzzle Source by Exit 135 (take a right after crossing over the Interstate to go to the Puzzle Source). Supposedly, it's the best place to buy jigsaw puzzles. We got there to find that Tuesday is the only day of the week she is closed.
<![if !vml]>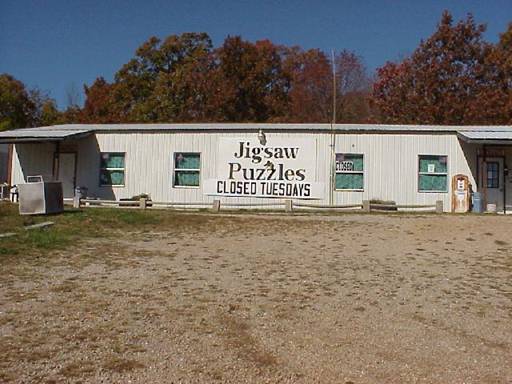 <![endif]>
Go ahead. Ask what day we were there.
After crossing over the Interstate at Exit 135, you take the left and right after the speedway on the right there are interesting ruins. There is a long-gone gas station and a sign pointing you to a café of which there is not a shred of evidence it was there except the sign.
<![if !vml]>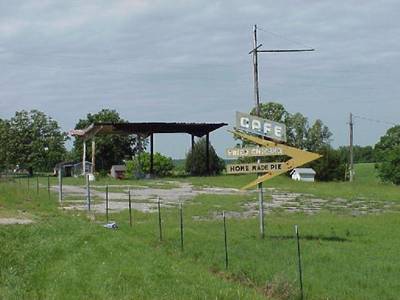 <![endif]>
All that's left of the café is the sign
We saw the Munger Moss Motel heading into Lebanon. There are a lot of old motels in that area. We continued on the old road until Marshfield and then we jumped on the Interstate to speed up the progress into Springfield because we were hungry and there was someplace we really wanted to go.
On a suggestion from a friend, we went to Aunt Martha's Pancake House at 1700 E. Cherokee St., about 2 miles south of the old road. It was outstanding. Although the restaurant is not on Route 66, it is definitely of that vintage. I had peanut butter pancakes, and they were obscene. Three enormous pancakes with about a half jar of peanut butter melted over them. Definitely worth the side trip.
After Aunt Martha's, we got back on track and did the rest of the old route through Springfield. It wasn't nearly as difficult as going through Saint Louis, but there wasn't all that much to see.
The stretch to Halltown was a nice road and, as noted earlier, the frequency of abandoned gas stations and tourist courts started to increase. Really, that's mostly what we saw all the way into Carthage. The most notable single thing was likely the Spencer Truss Bridge. It's a very old truss bridge that's about 1-and-half lanes wide. Just beyond it is the ghost town of Spencer…a line of businesses all boarded up.
<![if !vml]>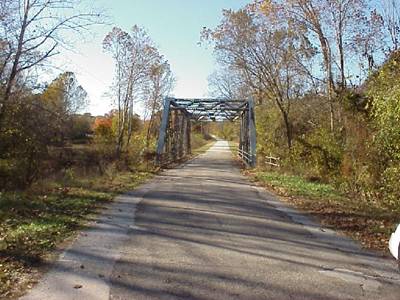 <![endif]>
Spencer Truss Bridge
<![if !vml]>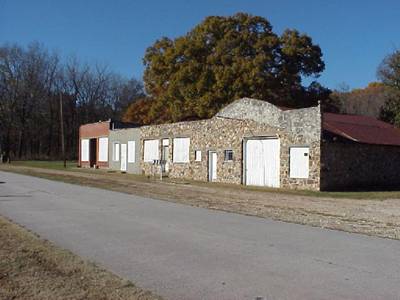 <![endif]>
The ghost town of Spencer
Once in Carthage, we went straight to the YMCA and found it was a really nice facility that opens at 5:15 a.m. So we planned to go there the following morning. We checked in at the Grand Avenue B&B. It's a very nice place and the lady who runs it was very cool. She even let us use their wireless Internet. One thing interesting is that her kids (and husband) live in the house as well. I don't think I've ever before stayed at a B&B where school-age kids actually lived there. Not that it's a problem (we actually never saw them), but it was just different.
After we checked in, we checked out the town square. They really do have a "town square" that surrounds an 1895 courthouse. The courthouse is stunningly beautiful outside and it's pretty nice inside. It even has an old elevator with a folding accordion door, and there is an operator for the elevator. There are a few interesting exhibits inside the courthouse, so it's worth a look.
<![if !vml]>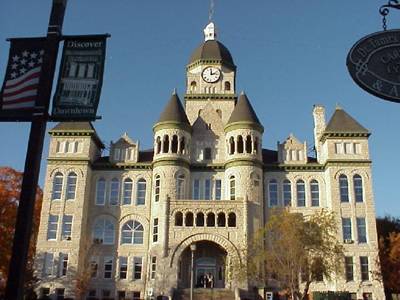 <![endif]>
Courthouse in Carthage, MO
For dinner, we searched out a restaurant suggested by the owner of the B&B, the San Martin at 100 Lincoln Street (417-359-9170). It was some of the best Mexican food we've ever had. Highly recommended if you come to Carthage. The total bill was $14 and change and there was so much food that we couldn't finish it.
We seem to be having a good run with the food…and the hotels are starting to shape up.
It's worth noting that Missouri does a crappy job of marking the route. You will occasionally see signs that let you know you are on the route, but you cannot depend on signs to tell you when you need to turn. We noted several places where you would have been lost if you depended only on the signs.
Day 5 –Carthage, MO to Bristow, OK
Wednesday, November 2, 2005
The YMCA worked out well. They had a 25-yard pool, so Andrea was able to swim
Breakfast at the Grand Avenue B&B was very good. The lady who ran the place needed us to jump start her car before we left, so that earned us a 10% discount. Even without the discount, we were very happy with the Grand Avenue B&B and we would recommend it.
Leaving Carthage, the Route 66 Drive-In is still in business (albeit closed for the season) and looks to be in fantastic condition.
<![if !vml]>
<![endif]>
Route 66 Drive-in, just west of Carthage, MO
The Galena Mining & History Museum is a must-stop. The lady who showed us around had lived in Galena for 50+ out of her (I'm guessing) 80+ years, so she had a lot to tell.
<![if !vml]>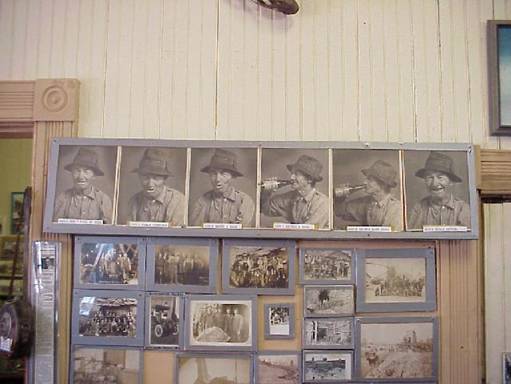 <![endif]>
Awesome
Eisler Brothers is a good general store and has some unique souvenirs. It's worth a stop.
Driving the last Marsh Rainbow Arch bridge between Riverton and Baxter Springs requires a bit of effort. Actually, if you are only following the Historic 66 signs, you won't see it at all. You have to stay on the original road and not the new highway with the smoother curves. They have kept open a little one-way road so you can go across the bridge.
Commerce, OK has definitely seen better days. We took several tries trying to find Mickey Mantle's boyhood home to no avail. There are no signs to point you to it. There was a house where the approximate address would be that is under restoration, but there was nothing to lead to you to believe it was Mickey Mantle's home.
Driving through Miami, be careful and watch for the old-fashioned traffic lights hanging in the middle of the intersections. When you are used to huge, multiple lights at controlled intersections, it's easy to miss the old style ones hanging up high.
The first one-car width section comes up after Miami. It's about four miles long with a couple turns. There's a lot of gravel on it, but you can definitely see the original pavement and marking on the sides in the middle of the road. There's another four-mile stretch of that type of road after Narcissa. On a comical note, at the very end we were confronted with a long train in front of us that wasn't moving, so we had to backtrack to get to the highway which had an overpass over the tracks.
<![if !vml]>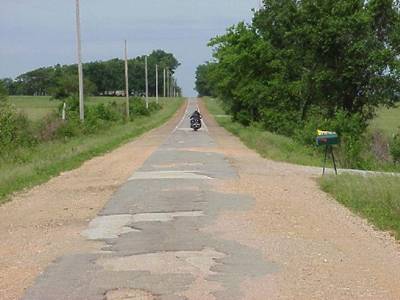 <![endif]>
Pass With Care
As far as Vinita goes, we are obviously very dense because neither of us saw the world's largest McDonalds. We asked about it in town and they said that it envelopes the Interstate near the intersection of 66 at the turnpike. Apparently, if you are on 66 you might not see it.
We checked out the pedestrian tunnel in Chelsea. It's pretty dank, but you can walk through it. We also saw the only Sears & Roebuck home west of the Mississippi in Chelsea.
The world's largest totem pole is definitely worth the seven miles round trip that you need to go out of the way. If you are there early afternoon, the totem pole itself is open, as is the 11-sided Fiddle House. The Fiddle House has a lot of historic photos and information about the totem pole and the artist. And it has a couple hundred fiddles made by hand by the same guy…no two fiddles made out of the same type of wood.
<![if !vml]>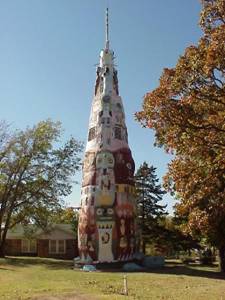 <![endif]> <![if !vml]>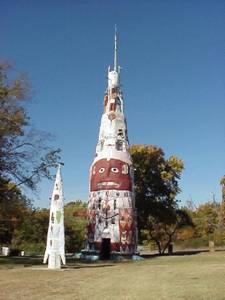 <![endif]>
World's Largest Totem Pole, Foyil, OK
<![if !vml]>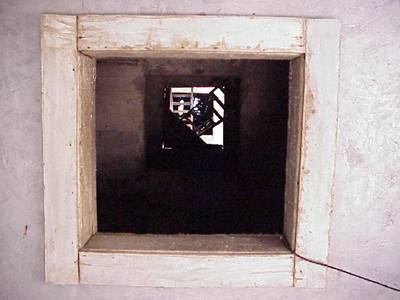 <![endif]>
View from inside, looking up
The stretch of the old road in Foyil with the original concrete was cool, although Foyil has seen better days. The Andy Payne Memorial is at the southern edge of Foyil.
We were toying with the idea of going to the Will Rogers Museum, but since we passed it without seeing it, we figured that it was fate that we shouldn't go.
As for the "unmatched" bridge spans over the Verdigris River, they looked exactly the same to me. One was clean and one was rusty…maybe that's why they are called Felix and Oscar. However, structurally they looked to be identical.
The Blue Whale was still there and you can still go in it. The Arrowwood Trading Post looked to be open, but we'd already gotten enough souvenirs for the day, so we gave it a pass.
<![if !vml]>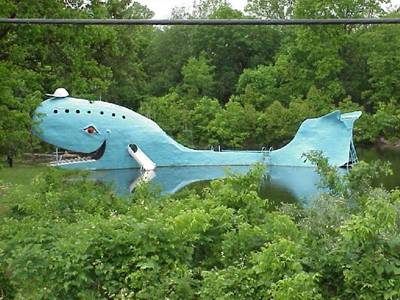 <![endif]>
The Blue Whale, Catoosa, OK
<![if !vml]>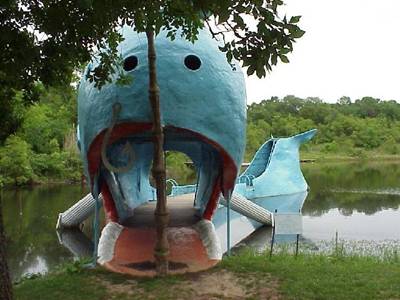 <![endif]>
Open wide!
While we would have liked to see the Giant Oil Man in Tulsa, we decided to give most of Tulsa a pass, and we took I-44 and I-244 straight through the city. We took Exit 5A, which dumps you off in an area that has signs that keep you on the old road, at least at first. (Oklahoma, like Missouri, is not a place where you can depend 100% on the signs to keep you on route.)
Going down this stretch after getting off the Interstate, right before passing under another Interstate, I got a feeling of foreboding. I realized that I was at the intersection where the Mayberry Restaurant is. On my last trip, I was looking for somewhere to get breakfast food at lunchtime. I saw the Mayberry Restaurant, with the paintings of the Mayberry characters in the windows, and thought it looked inviting. Inside was a different story. I can easily count on one hand the number of times I've walked into a restaurant and left because I decided that I didn't want to eat there. This was one of them. The scene was like a really bad version of the painting Boulevard Of Broken Dreams. Each table had a single dirty, homeless-looking person at it. I got the hell out of there.
Continuing south, the Frankoma Pottery outlet is worth a look if you are into that type of stuff. They will ship your purchases for a fee.
Leaving Sapulpa, make sure you don't miss the 3-and-a-half mile stretch of the old road that goes off to the right. I was even looking for it, and I almost missed it. If you go past the Tee Pee Drive In on the highway, you missed it.
<![if !vml]>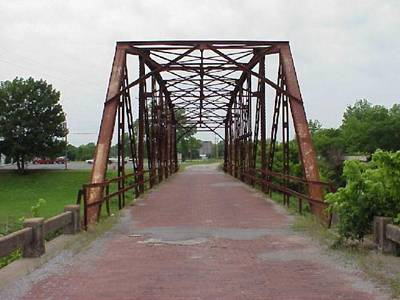 <![endif]>
Original Alignment leaving Sapulpa, OK
<![if !vml]>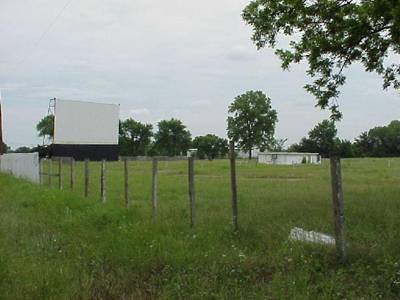 <![endif]>
Tee Pee Drive-In
Once leaving Sapupla and heading to Bristow, there are a lot of the original segments that branch off and back on to the main highway. There are no historic signs letting you know about them; however, the road names do uniformly say "Old Route 66" on these little stretches. They still have the pink concrete underneath all the gravel. They are worth seeking out and driving if you have the time.
We checked out the Family Fitness Center in Bristow. It was an older, storefront local facility. It was so local, that the owner gives members the combination to get in the place so they can use it if she's not there. In one of the more bizarre experiences of the trip, since we were looking to use the place before she opened, she offered to give us the combination to the place. That's right…two people she'd never met…we walk in off the street, hand her $10 for the two of us, and she gives us the combination to open the door and let ourselves in. Wow.
Compounding the weirdness after the Family Fitness Center, we got to the Hummel Hide-A-Way Home where we had a reservation (http://www.visitbristowok.com/hummel/), and there was no one there. We tried calling the proprietor on her business line and then on her cellphone to no avail. We scratched our heads for awhile and then she called us back on Andrea's cellphone. She'd just had surgery so she told us where she'd left a key for us. The concept of this place is interesting…it's not really a "B&B" per se. Rather, you have an entire house to yourself. It's a pretty small one-level house…the type you'd see in a middle class section on an old city.  Two bedrooms, shared bath, and there was all sorts of do-it-yourself breakfast food. So, if you like the concept of a B&B type location, but don't like having to deal with the other guests or the owner, this place is perfect. I enjoyed it. In no small part that was due to the fact that the place itself was very nice inside. The owner has done a good job with it.
On the suggestion of the lady who runs the Hummel Home, we went to Bruno's Mexican restaurant on Main Street, a five minute drive from where we are staying. It was OK, but not to die for. Actually, it may have been pretty good, but last night's Mexican was just so good that it paled in comparison.
Day 6 –Bristow, OK to Clinton, OK  Elk City, OK
Thursday, November 3, 2005
The Family Fitness Center in Bristow turned out OK. I myself had never in my life been to a gym where you let yourself in and there's no employees there. Maybe this is more common in smaller towns, but I'd never heard of it before.
The Hummel House was a decent place to stay. There was some road noise but if you want to stay in a hotel that's right on Route 66, that's part of the game. We had a self-induced fiasco of spending 45 minutes trying to find my cellphone before we left (I found it in the car later in the day), but other than that, everything turned out great in the Hummel House. It was a little different never dealing with anyone face-to-face (in fact, we left the remaining payment on the kitchen table when we left), but if you are a misanthrope like me, that can be a good thing.
Depew wasn't particularly notable, other than the fact I bought stamps at the post office. Stroud, however, was great. We had lunch at the Rock Café. It is a Route 66 institution. It first opened in 1936 and, while it hasn't been in continuous operation since then, it has had the same owner for a few years. I ordered the five pieces of French Toast, and Andrea had some other breakfast stuff. The cook and waitresses made a big deal out of the fact that "no one had ever eaten the five pieces of French Toast all by themselves" and, if I did it, I'd get to write my name on the wall in the bathroom. While it was obviously something they goad the out-of-towners into doing (trying to make me "Mister Lamb Fries"), the French Toast was really good, so I did eat it all. So, if you ever go to the Rock Café, look at the wall on the right side, bottom row, third tile back from the front right corner. It says "Bill Milano, 5 pieces of French Toast, 11/3/05". Another outstanding meal for under $20. I filled my travel coffee mug, and we hit the road again.
There is a restored gas station in Davenport right on the route that might be worth checking out. We were already past it when we saw it, and we were running late. Seeba Station was closed when we went by. On the way to Arcadia, there were some interesting ruins here and there.
In Arcadia, the Round Barn was a must-stop. We looked all around and chatted with Butch for a while. It being off-season and a Thursday, we pretty much had the barn, and Butch, to ourselves. We liked it so much that we made a sufficient donation to have our name and the date put on a sidewalk brick. So, look for a brick with our names and the date on it next time you go there.
<![if !vml]>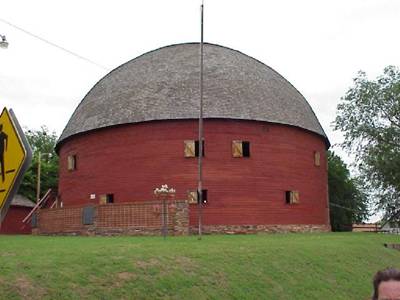 <![endif]>
The Round Barn, Arcadia, OK
Given our Saint Louis experience, we decided to take a pass on the old route through Oklahoma City and instead go through it on the Interstate. Heading out of town, I checked out the pedestrian tunnel in El Reno. It wasn't flooded this time, but it was still a pretty dank place.
<![if !vml]>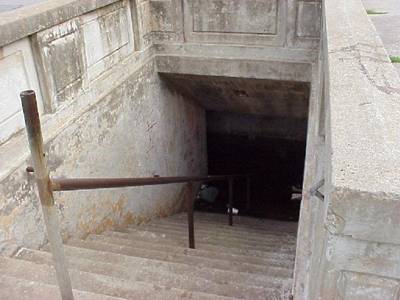 <![endif]>
Pedestrian Tunnel in El Reno, OK
West of Oklahoma City, the ride gets really nice as you go to Hydro. A lot of the old pink concrete roadbed, the half curbs, trees lining the road, some ruins, and no traffic. We had some great riding all the way to Clinton.
<![if !vml]>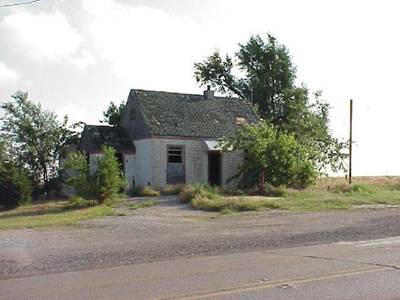 <![endif]>
Ruins on the way to Hydro, OK
We counted the 38 trusses out loud crossing the Pony Bridge.
<![if !vml]>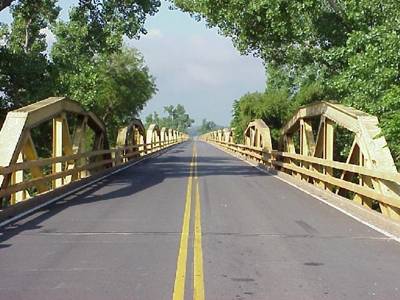 <![endif]>
Pony Bridge
Something kind of comical I realized was that what I thought was Lucille Hammon's place on my last trip wasn't Lucille's at all. There are some significant ruins approaching Hydro, in Hinton Junction. It's a weird intersection…there's a roadside park in the middle of it. There's remains of an old tourist court and some type of store. I had thought it was Lucille's, but it's not.
<![if !vml]>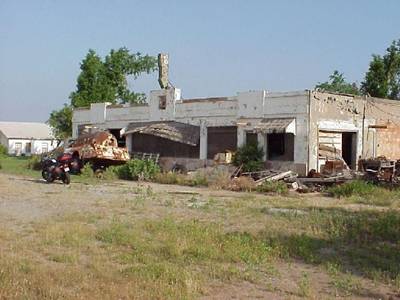 <![endif]>
Welcome to Hydro, OK
Anyway, as we approached Hydro, we did see Lucille's. As I understand it, the place was purchased by someone on eBay. If so, they certainly don't seem to be doing anything with it. It's not looking too good.
<![if !vml]>
<![endif]>
Lucille's in Hydro, OK
Heading out of Hydro and into Clinton, it's interesting to note the alignments as the old road crosses the Interstate. You can see where the original roadbed ends at a curve to a new road snaking you around the Interstate, and you can tell when you join back up with the original roadbed after you cross.
Coming into Clinton, we headed straight for the Route 66 museum. I had thought that the Best Western was right by the museum. I saw something that looked sort of like a Best Western across the street, but the words "Best Western" weren't on it. I figured we'd find it after we went to the museum (more on this later).
Went to the Route 66 Museum in Clinton. Continuing with the pattern of this trip thus far, the lady at the counter where we paid our admission was excited to hear that we were driving Route 66. The museum is fun. It's a fantastic stop when you are on a driving trip because it doesn't take that long and you can get back on the road quickly. While it isn't a huge museum, you get your money's worth at $3 for an adult admission. They have rooms separated by decades, and there is a recording you can listen to that talks you through each room, and you are given instructions how and where to stop it if you want to linger longer in a given room.
On the way out, we asked for dinner suggestions and there didn't seem to be anything really noteworthy in Clinton. The one "official" Route 66 Restaurant in town, Pop Hicks' BBQ, burned down in 1999 and they had no insurance to rebuild. On a whim, I asked about the Best Western, and the lady grimaced. She chose her words carefully, and said "Well…it used to be a nice place and it used to be a Best Western, but the owner sold out. The people who have it now have let the place run down." She paused, not knowing whether to continue, and she went on. "They're foreigners. Indians. They bought the place and they've really let it go downhill."
What was most interesting about where she was going with this was that it was something that Tom Teague devoted a chapter to in his book Searching for 66. It was that the perception of a lot of the older motel owners, rightly or wrongly, was that Indians were buying up a lot of the old motels, letting them go downhill, and thus giving all the old motels a bad rep. Teague seemed to agree, although his point was that it wasn't 100% true in all of the cases. According to him, some of the Indian owners did care and keep their places up.
We came out of the museum and looked across the street at the former Best Western. It really did not look inviting. So, in keeping with the "cutting our losses" theme of the trip, we called the motel, canceled our reservation, and decided to head off to the next town of any size, namely Elk City. While this would make our day longer, it was only 4:30, and it would cut some miles off of our last driving day.
So, we went to Elk City. And, I'm ashamed to say, we did everything that we are not supposed to do on a Route 66 trip. We 1) took the Interstate to get there, 2) we stayed in a chain hotel and 3) we ate in the restaurant at that hotel. Oh, well. We did jump off the Interstate for a few minutes to ride the strip in Canute, OK. If you are doing Route 66, riding the old route through this town is a must. It is the most dramatic example of a town where all the businesses closed down when the Interstate bypassed it. The downtown strip is unbelievable.
<![if !vml]>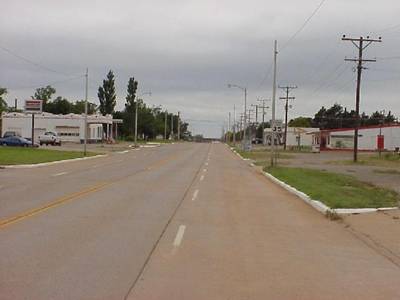 <![endif]>
The strip in Canute, OK
For the record, we drove around Elk City for a while looking for restaurants and a hotel. The one that looked the best was the Holiday Inn, and it was kind of interesting to note that all the advertisements for the Elk City Holiday Inn said "Bob & Anna Welcome You". I read that to mean "We are not foreign-owned". The Holiday Inn wasn't really old, but it wasn't really new, either. It was one of those "Holidome" Holiday Inns. They had wireless Internet, so that was cool. We asked for restaurant suggestions and the front desk staff kept impressing on us how good their restaurant was. We were tired and didn't feel like driving around town, so we gave it a try. It was fine…as restaurants in Holiday Inns go, it was definitely one of the better ones.
Day 7 –Clinton, OK  Elk City, OK to Amarillo, TX
Friday, November 4, 2005
Andrea used the fitness center and I went out running. I went for an hour and there were great running roads behind the hotel, through the industrial park and then neighborhoods, heading away from the Interstate. Almost no traffic and it was a good run.
As for the breakfast, I didn't have any. Andrea went down to their breakfast which is open from 6:00 to 10:00 at around 8:45. She said that the buffet wasn't bad, but it was pretty much picked over. I was happy because the room had the little coffee brewer in the bathroom, and they had decaf, so I could fill up before we left.
The theme for today seemed to be needing to be really careful not to accidentally wind up on the Interstate. It happened to us a couple times. Also, following the old road would be really hard to do without a GPS. Texas does a horrible job of marking the old route, and you need to regularly cross over the Interstate to avoid getting on a dead end frontage road. That being said, there were definitely some nice stretches, but you need to work at it.
Sayre had a lot of old motels and abandoned gas stations. Andrea and I walked through the pedestrian tunnel underneath the intersection of Route 66 and Elm Avenue. It was particularly creepy, so after walking through it once, we went back to our car via crossing the street. We had no desire to go back through it again.
The Beckham County Courthouse is worth seeing, if for no other reason than because it was in the movie Grapes Of Wrath. It's nice enough on its own, but the one in Carthage, MO blows it away. If you are on Route 66 and not really looking around, you may miss it entirely. It is on Main Street and you need to turn your head to the left as you are going south on Route 66 to catch it. On a somewhat comical note, as we were pulling up, a deputy was loading two prisoners in the car, and they were actually wearing the striped jumpsuits like in the cartoons.
<![if !vml]>
<![endif]>
Beckham County Courthouse
Leaving Sayre and heading to Texola, for a very good percentage of the time there is an old alignment paralleling you on the north. There are sections of it that are driveable for miles at a time. There are no "Road Closed" signs, so it may not even be illegal to do it. I recommend giving it a try, at least for a little while.
<![if !vml]>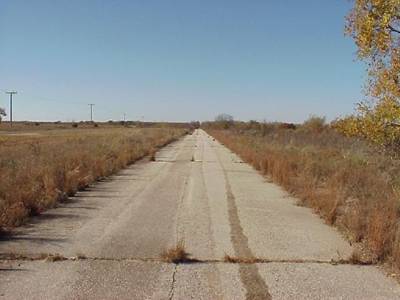 <![endif]>
Old Route 66 Alignment
I was a little disappointed to find that the place in Erick which was supposedly the only intersection on Route 66 where all four corner buildings had doors on the diagonal that faced into the intersection is no more. Three of the four buildings are still there, but one has been demolished to an empty lot. Hopefully, it will be replaced with something similar.
Texola was the first place we went to that I felt truly qualified as a "ghost town". Other supposed ghost towns had plenty of abandoned businesses, but at least there was generally decent residences. In Texola, all the businesses were effectively gone and the residences weren't looking too great either. The one room jail a block north of Route 66 is a must see, and you can even go in it.
<![if !vml]>
<![endif]>
Welcome to Texola!
<![if !vml]>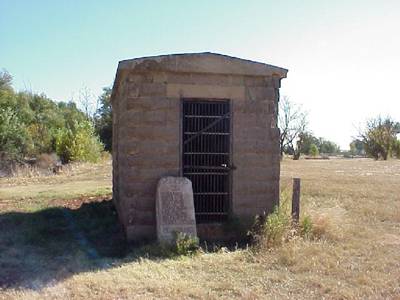 <![endif]>
The original Supermax
There's a lot of old motels and ruins in Shamrock. We stopped by the U-Drop Inn which never did all that much for me. It seems the Chamber of Commerce resides in the building now, and they are putting some historical stuff in there. However, when we were there, person running the place had left early for lunch, so we couldn't get in.
We took a small side trip down to Elmore Park in Shamrock to kiss the piece of the Blarney Stone they have there. There seems to be a restored gas station at the intersection of 2nd and Madden that may be worth checking out.
Leaving Shamrock, you will see your first cotton field on the trip, and you will see plenty more of them on the way to Amarillo.
Coming into McLean, we took the side trip to see the site of the World War II POW camp. There is absolutely nothing left of it other than a historical sign. I had thought there would still be some buildings, but there is nothing left.
The Devil's Rope Museum in McLean is a must-visit. They have everything you wanted to know about barbed wire, as well as substantial exhibits of old farm equipment as well as a very small Texas Route 66 museum. The barbed wire museum gives you a good feel for how the Homesteading Act changed America, and how barbed wire played into all that. Devil's Rope Museum is free, and they say only donate if you feel it was worth it. Definitely different than the Baltimore Aquarium and Chicago's Museum Of Science And Industry in that regard.
<![if !vml]>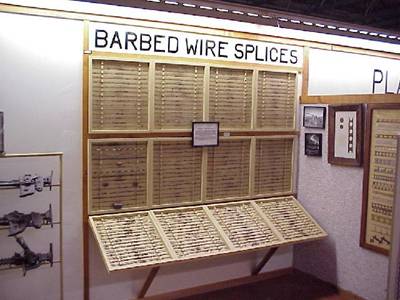 <![endif]>
Yes, there really is such a thing as a barbed-wire museum
The restored Phillips gas station in town wasn't really impressive. It seems that they haven't really done much to restore it.
On the suggestion of the lady at the Devil's Rope Museum, we went to the Red River Steakhouse on the west edge of town on Route 66 for lunch. It was extremely good. It was really cool to be in a restaurant where real cowboys with spurs on their boots were eating.
Alanreed was sort of a ghost town.
Trying to drive the truly original route through Jericho's Gap was an experience. It goes from pavement to dirt to pavement to dirt to pasture with tire tracks through it. I had read that you couldn't do it because part of it was private property. While what we were driving through looked like private property because there were cattle guards and some sort of industrial area, there were no signs saying we couldn't do it, so we tried it. It was really rough driving…there was no roadbed. You are following indentations in the dirt, and it would have been completely impossible without a GPS tracking the trail with you. The entire stretch is about 9.5 miles long. We were able to do 3.75 miles of it before it became completely impassable. So we carefully turned around and came back out. We figured that we'd tempted fate enough on that, so we didn't try going in through the western end to see how far we could get from the other direction.
Groom had its leaning water tower and we took the time to see the largest cross in the Western Hemisphere. I'm not sure what to say about it…it was really big but, aesthetically, it is not at all pleasing. It's just "big" We went into the gift shop and the people in there were really hardcore. So, unless you are into that, I'd suggest staying out of the gift shop. Really, I don't think it qualifies as a "roadside attraction". It's more a religious site. (Ultimately, it's my fault for that not occurring to me until I went in.) I found it all a bit "smothering", and a friend I was IMing with about it tonight had an interesting observation. Over the last year or two, we're so used to the enforcement of separation of Church and State and the demonization of Christmas and other religious observances that we are taken aback by people not afraid to be religious. His observation was that if you travel in Europe, this type of thing is all over the place but, in the US, it's not as accepted anymore.
<![if !vml]>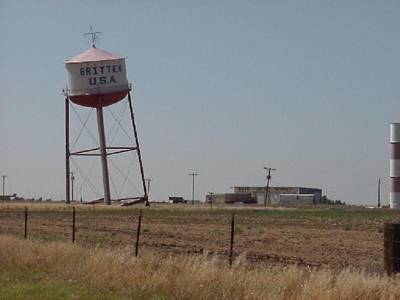 <![endif]>
Leaning Water Tower, Groom, TX
<![if !vml]>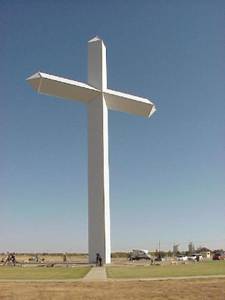 <![endif]>
Big Cross, Groom, TX
You'll see some really big cotton fields leaving Groom, and there will be cotton bolls all over the road if you want a souvenir.
We got into Amarillo and got to the point where the oldest alignment is cut off by the airport, so we made our way to the Big Texan Inn. The Big Texan Inn is a great place if you are a fan of old motels, but also want them to be halfway decent. It's extremely cheap ($39 in November), it's old, it's kitschy, but it's very clean. There's a western mural on one wall, another on the headboard, and there's swinging saloon doors on the vanity section of the bathroom. And, most notably, the Big Texan Steak Ranch (http://www.bigtexan.com/) is just across the parking lot. In addition to lunch and dinner, it's also open for breakfast. If you stay at the Inn, you get a $2 discount on breakfast, so you can get the buffet for $5.95.
<![if !vml]>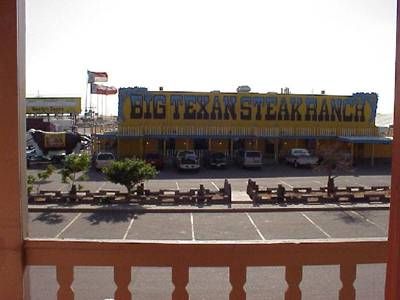 <![endif]>
Big Texan Steak Ranch, Amarillo, TX
We hung around until dinner time and I did a little research on the Big Texan website. As yet, no women have eaten the 72-ounce steak this year. Last year, there was a guy who did it twice in two days. There was also a couple with the same last name, presumably husband and wife, and the guy was 61 years old and 135 pounds, that did it together in March and then did it together again in September.
We went over for dinner about 7:00. Per what the lady at hotel check-in had said, at this time of year there's not a wait to get in for dinner, even during peak dinner hour on a Friday night. Unfortunately, like last time I was here, no one was trying to get the free steak. Andrea got steak and I got prime rib.  The steak and prime rib were decent. They weren't Mortons nor Ruth's Chris, but that's not surprising given the lower prices. Both steaks were cooked perfectly to order.
After a nice dinner at the Big Texan, we strolled back to our home and went to sleep. Tomorrow, the toughest travel battle starts…two flights to get home.
Day 8, Amarillo, TX
Saturday, November 5, 2005
One thing about staying in old motels. When the person in the next room turns on the shower, it sounds like the building is falling down.
The Amarillo Golds Gym worked out well. In keeping with the pattern, it's supposed to be a $10 guest fee per person. The guy at the desk said he was going to charge us $5 a piece, and then he decided not to charge us at all. It's a really nice facility with racquetball courts and a lap pool. It's not all that hard to find but it's a little weird that the back of the building faces the street that its address (3000 S Blackburn) is. So, it took us a few minutes to find it, but it was all good.
Breakfast at the Big Texan was decent. It was a generic breakfast buffet. The spicy burritos and blueberry muffins were particularly good. It was worth the $5.95, but probably not worth much more than that.
Next stop was at Wal-Mart at Exit 72 to get a couple cans of spray paint, and then off to the Cadillac Ranch, aka Carhenge. We took a few pictures there and did some spray painting. We left our nearly still full spray paint cans behind for others to use, and we packed out any empties that were laying around. It's definitely worth the stop. My advice to you is that if you want your graffiti to last, bring a Sharpie and write it on the underside in an obscure place. If you spray paint anyplace obvious, it will get overwritten very quickly.
<![if !vml]>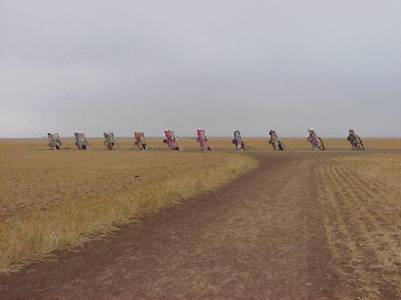 <![endif]>
The approach to Carhenge from Route 66
<![if !vml]>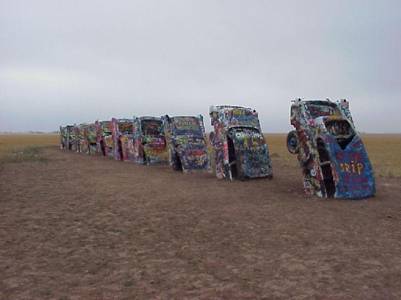 <![endif]>
Carhenge
We tried to find the Discovery Center and Helium Exhibit and couldn't find it. So, we tooled around the old Route 66 section in town. Nothing really notable to see there. We found a place to play miniature golf and did 18 holes. I won by six strokes. We had over an hour left to kill, so we went to the American Quarter Horse Museum. Unless you are really into horses, don't waste your time. It's a vanity museum that people created to let you know why their love of horses is so important.
From there, it was off to the Amarillo Airport and vacation was officially ended. Andrea enjoyed the trip. While my hopes were obviously too high that this was going to be "our best vacation ever", we both had a really good time and Andrea will be happy to do the Amarillo to Los Angeles stretch with me, albeit not for several months. In closing, I leave you with a picture of a sign we saw outside Amarillo. For me, anyway, it captured the spirit of the trip.
<![if !vml]>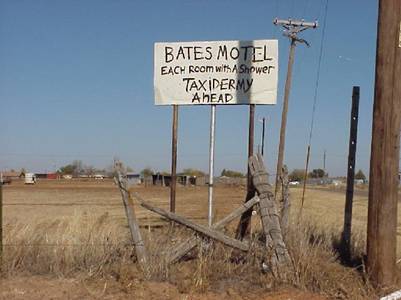 <![endif]>
Stay here and you'll never stay in another motel again!
Lessons learned for our next Route 66 driving trip
Prioritize what you want to do each day, and come up with your list of "must sees". There's so many things to see that trying to do 200 miles a day and see everything just isn't realistic. In fact, you may want to gauge your trip not so much by evenly parsing out the mileage (e.g. 200 miles each day, like we did), but by making the number of miles in a given day be an inverse proportion of the number of things you really want to see along that stretch.

If you are making an effort to follow every inch of the old road that still exists, it is fundamentally impossible unless you have a GPS hooked into mapping software. We did, and that allowed us to backtrack and right ourselves when we took one of our frequent wrong turns.

Related to the previous point, if you are depending on the Historic Route 66 signs to keep you on track, you're screwed. They alone will not keep you on route.

There is fantastic food to be had along Route 66 in local restaurants. Ask around with the locals and you'll get some great surprises.

On the flip side, old motels are a dicey proposition if you are not interested in "roughing it". Some, like the Big Texan Inn, are well-maintained. Others, like the Wagon Wheel and the former Best Western in Clinton, not so much.

Whenever you can, visit with a legend. The few that are left won't be around forever, so make it a point to see people like Butch at The Round Barn.

Where appropriate, don't be afraid to tell people along the way that you are driving Route 66. Without fail, peoples' faces would light up when we told them what we were doing. Likely, your friends and family back home don't "get it" when you talk about the trip, but as for those people who live along the route, they definitely do.

Do your best to patronize the Route 66 businesses that are still hanging on. Like the owner of the Wigwam Motel said, too many people show up to take pictures and don't spend any money. If you don't spend any money, that place might not be there next time. So, within reason, work your driving schedule so you can eat places like Dell Rhea's Chicken Basket, The Launching Pad, and the Rock Café. Likewise, when you see attractions that don't charge admission like the World's Largest Totem Pole, the Round Barn, and the Devil's Rope Museum, buy some souvenirs and/or drop a few bucks in the donation box to make sure that site will be around for future generations.

While the previous point still applies, know when to cut your losses. Don't let your Route 66 interests cloud your better judgment. If a motel or restaurant just doesn't feel right, move on.

Likewise, don't be afraid to "cut your losses" when you miss a turn and/or feel like knocking some miles out quickly on the Interstate. If your number one goal on the trip is to find and do every inch of the old road, that's cool. However, if you're just there to have a good time, feel free to pick and choose which pieces you do.

If you are not bent on doing all of the old road, it's probably best to go around all the major cities (e.g. Saint Louis, Tulsa and Oklahoma City on this trip).

If you've got your heart set on an attraction, call before showing up to make sure they are going to be open when you are there. We found some places close on Sundays, some on Mondays, and some on Tuesdays. Some were closed for the season.

If you are looking to keep up with your workouts, it can be done, even in the small towns. With some research, you can find places to work out or, worst case, put on some running shoes and explore the town on foot. At the least, you should be able to get "maintenance workouts" in.

Don't be afraid to go a mile or two out of the way to check out something really cool even if it's not an "official" Route 66 thing. A number of the best memories we have from the trip (Aunt Martha's Pancake House, World's Largest Totem Pole, and the Blarney Stone) fall into this category.

Go in with the attitude that it's an adventure and, likely, some things will go wrong. I was really lucky in that Andrea was able to go with the flow. This would be a tough trip to take with someone who is a nervous traveler or gets worked up easily.
---
Back to the Main Page