Buddy Landel's Random Photos Gallery
All pictures on this site are from my private collection
These pictures and their full size versions are copyrighted by me and may not be reproduced without my permission
Click on photo to see it full size
The best

and the worst






parts of being a professional wrestler. (That best is from my number-one fan, Sunny, from Piney Flats, TN)
---
Versus the Iron Shiek in 1981 (Thanks to Randy S. for sending these in)

---
---
---


With Arn Anderson (the first photo is really old...back from our Louisiana Territory days)
---

With Wahoo McDaniel in November, 1991
---
With NWA World Heavyweight Champion Dan Severn




and Skip...or is it Zip?

---

With Butch Reed
---

With Bobby Eaton and Jim Cornette
---
---

How'd you like these guys coming down your chimney? That's Superstar Bill Dundee in the back and Billy Travis in the middle.
---

With Hector Guerrero
---

With the Queen
---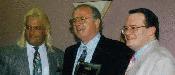 Bill Watts gets the award for "never kissing anyone's ass"
---

With Kwang (Mark Starr's brother)
---

With 2 Cold Scorpio
---
With the Smoky Mountain Heavyweight Belt




---
Back when I used to darken my hair...now I let it be its natural blonde color



---
Some other old photos sent in by a fan



---

Thinking about what it means to be Southern Champion...ah, I know!

---
You'd think I was trying out for the movie Goodfellas


---
When you look this good, you just can't limit your posing to inside the ring


...of course, not all pictures are that flattering:


---
A great new outfit...too bad there were there weren't a lot of people there to see it



In fact, later, I counted the house:

Actually, all kidding aside, the first three pictures are from the movie Box Of Moonlight, where I played Uncle Samson. Hulk Hogan and Roddy Piper aren't the only wrestlers to be in a movie!
---
Ready for action

---
Soaking up the cheers

---

With the Rock 'n Roll Express, The "Boogie Woogie Man" Jimmy Valiant, and a nice shiner
---

Saving the best for last...with my dad
---
Back to the Home Page