The DDT Digest Online Guide to Lodi and Lodi Signs (Part 3 of 3)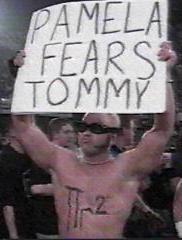 03/07/98 "I," "Can," "Beat," "Disco" in four separate signs. WCW Saturday Night. Lodi informed the audience of his capabilities en route to the ring for a match against the Disco Inferno. This would become part of his ring entrance he displayed his opening argument in various posters, holding them in order, and dropping theme one by one to eventually unearth his entire message.
03/07/98 "Disco Stinks" painted on his back. WCW Saturday Night. This was another method for Lodi to agitate his opponent. Even if Disco dropped Lodi flat on his face and rendered him mute, this sign would still be present to convey Lodi's thoughts.
03/07/98 "Disco: Real Bad Nose Job." WCW Saturday Night. This is the sign that provoked Disco Inferno into opening an assault on Lodi to begin the match. Disco ran right through the sign and connected with a lariat. This is not the first time a wrestler has verbally attacked a challenger's nose to fuel a feud. In Ollie's Wrestling Resources' "Top 100 Wrestling Quotes of all time", the #18 listing is from Roddy Piper's 1981 feud with Ric Flair. Piper said, "Ric Flair is out there crying, his nose is running. He's probably drowning from the size of his nose running." 16 years later, Syxx wore an enlarged nose while portraying Flair in the nWo's parody of the Arn Anderson retirement speech (09/01/97).
03/07/98 "Disco: Try Dance Lessons!" WCW Saturday Night. The key to this sign was its timing. After rendering an elbow to the Disco Inferno, Lodi broke from the match to display this sign. This is a tactic Disco would often used when he was in the comical role Lodi is now in. As he was in control of his match, he would stop to dance. This is ironic that Lodi would take this time to display this sign at this time because it is a "mistake" that Disco himself might have made by doing what the sign suggests. Holding signs is to Lodi's gimmick what Disco's dancing is to his. This makes this sign funnier than it already was.
03/07/98 "Buy Raven's Shirts." WCW Saturday Night. This sign was written on the back of the "Disco: Try Dance Lessons!" sign. It was the only sign Lodi held on this show which did not relate to his opponent, the Disco Inferno. Raven had a new shirt released by WCW in mid-February which was first clearly seen on the 02/23/98 Nitro when Raven wore the shirt during a bout with Chris Benoit. The front reads "Raven" and the back reads "Quote the Raven Nevermore." In Edgar Allan Poe's 1845 poem "The Raven", where the Raven gimmick originates, Poe uses the word "quoth," not "quote" that is on this shirt. This may be WCW's way of avoiding paying for any rights to the cliche. WCW markets Hogan as "Hollywood" as opposed to "Hulk" whenever possible to avoid paying Marvel comics for the rights "Hulk" due to their trademarked comic "the Incredible Hulk." The sign was a take-off on the nWo pitch in their commercials "Buy the shirt!".
03/07/98 "Lodi: The #1 Chartbuster!" WCW Saturday Night. This was yet another reference to the Disco Inferno and his finishing maneuver, the Chartbuster. The move was actually first used by Disco on a woman who had a big bust! He used the hold to defeat Jacquelyn in a dark match prior to the 11/01/97 Nitro from Philadelphia. Apparently the match was held due to negative reaction from the wrestlers that Disco was forced to job to this woman a week earlier on pay-per-view. The move was given to him by WCW in response to WWF grappler Marc Mero "stealing" the Diamond cutter from Dallas Page. In seeking retribution, they gave Disco a variation of WWF superstar Steve Austin's Stone Cold Stunner. It is worth noting that Page and Mero are friends and Mero was supposedly given permission to use the hold whereas Austin was never contacted.
03/09/98 "Duh!" was painted on Lodi's chest WCW Monday Nitro, Winston-Salem, North Carolina. This may be in connection with Lodi's common "You are Stupid" signs. It may also be alluding to the fact that most fans do not fully understand many of his signs. This may also be implying that the "smarts" are not as smart as they think.
03/09/98 "Deacons-Enjoy the NIT" and "Heels rule the ACC" and also "Go Heels" painted on his back. WCW Monday Nitro, Winston-Salem, North Carolina. These are all references to the local Wake Forest Demon Deacons' failure to qualify for the NCAA basketball tournament and the success of their Atlantic Coast Conference (ACC) rivals, the North Carolina Tar Heels. While fellow in-state teams Duke, North Carolina and North Carolina-Charlotte all were selected for the NCAA tournament, the Demon Deacons failed to qualify for the first time in eight years. Their streak of seven consecutive tournaments had tied them for seventh among active streaks. Lodi, a North Carolina native who still wrestles on the North Carolina independent scene, realized the seriousness with which North Carolinians regard basketball. For your information, Wake Forest was eliminated 72-68 in the NIT by the Vanderbilt Commodores, finishing their season at 16-14. Ric Flair marks will recall that Flair was named honorary coach of the Demon Deacons for an encounter with Clemson on 02/12/97. The story can be found on the WCW web site at http://wcwwrestling.com/news/special_reports/flair_coach.html.
03/09/98 "Cricket is Back!" WCW Monday Nitro, Winston-Salem, North Carolina. This sign first aired four days earlier on the 03/05/98 Thunder. For our best estimate as to its meaning see the note on that sign.
03/09/98 "Lodi Rulz" WCW Monday Nitro, Winston-Salem, North Carolina. This traditional Lodi sign was displayed during a match where Chris Benoit and Steve McMichael wrestled Saturn and Scotty Riggs. Schiavone asked someone to slap Lodi as he displayed this sign.
03/12/98 "Am I Bugging You?" WCW Thursday Thunder, Baton Rouge, Louisiana. This is a reference to Lodi's ploy of annoying fans to incite heat, but is probably directed more at Tony Schiavone than anyone else. Schiavone started the feud with "Will somebody set him down?" at the 12/01/97 Nitro. On the 01/05/98 Nitro, Tony said, "Will someone slap Lodi?" and repeated this request only three nights before this sign aired on Nitro. On the 02/21/98 edition of Worldwide, Tony Schiavone berated him to Bobby Heenan. Just one week prior to this sign, Lodi responded with a barrage of signs on Nitro. Schiavone was greatly offended, particularly by his "Talk about the Flock" sign. For further detail, see the report on that sign.
03/12/98 "Saturn-Ultimate Gargoyle." WCW Thursday Thunder, Baton Rouge, Louisiana. This sign was held during a match where Saturn made Disco Inferno submit to the Rings of Saturn. Lodi added "Ultimate" to a sign he held on the 02/21/98 edition of WCW Worldwide. The addition of "ultimate" could have been related to speculation of the Ultimate Warrior's entrance into WCW. During the 03/02/98 Nitro, only ten days earlier, during a Benoit-Riggs match a "Bring back the Ultimate Warrior" sign was clearly visible. Kidman, Lodi and Saturn were all present at ringside during the bout. Any reference to the term "ultimate" in reference is generally associated with the WWF character. Warrior entered the WWF on 09/23/87. During a 10/15/97 Prodigy chat, he relayed an interesting story as to how he adopted the name Ultimate Warrior: "Specifically, Ultimate Warrior...many of you will know, and once again if not I'll tell you, when I first went to the WWF they tested me...meaning I had not yet appeared on TV. I had come to the WWF from World Class Championship Wrestling where I had already made a character quite popular even with limited regional exposure. I'm talking about the Dingo Warrior. The Warrior concept was developed in World Class Championship Wrestling. When I went to the WWF, I continued to use the Warrior character exactly as it had been used in World Class Championship wrestling up until my first television appearance for the WWF. I remember very clearly how it happened. Titan, at that time, used to do these things called 'pretapes' wherein while you were wrestling in your match, a smaller screen would be inset where you would be cutting a promo about an opponent or whatever it may be. My pretape for my first television appearance was simply me introducing myself. My first television appearance was taped in Green Bay, and around the same time the Pile Driver album was being produced and in these make ready interview rooms where they set up where they tape television, I had been asked earlier in the day to tape my pretape. As I said, my introduction. When I walked into the room Vince was there with probably 12-15 of the top talent back then. That would have been Hillbilly Jim, Don Muraco, Bob Orton, Koko B Ware, Greg Valentine, The British Bulldogs. Vince summons everyone to take a break but the Bulldogs over the last 8-9 months while I was being tested had become good friends. Since they knew it was my first television appearance, they stayed in the room to try to make me lose my concentration in front of Vince, and of course to make me screw up my pretape. As everyone cleared out of the room except the Bulldogs and a couple of other guys, Vince told me what I was to do, I was to do my pretape introducing myself. He told me to drop the Dingo, and just use Warrior. Well, as the camera rolled, and I was cutting the promo I said 'I am not this Warrior, I am not that Warrior, I am the Ultimate Warrior.' When Vince first heard it, he yelled at the camera guy to cut, and said 'What'd he say, what'd he say?' The Bulldogs in their accent yelled 'Ultimate,' and Vince goes 'Ultimate, Ultimate...I like it, let's go with it.' For the next few months Dynamite Kid and Davey Boy Smith wouldn't let up on how everything went down. That's how I came up with Ultimate."
03/12/98 "LSU Tigers are Wimps." WCW Thursday Thunder, Baton Rouge, Louisiana. This sign was directed at the Louisiana State University (L.S.U.) athletic department which is located in Baton Rouge where this edition of Thunder was taped. The day before this sign was shown, the highly ranked L.S.U. baseball team won its eighth consecutive game.
03/15/98 "Use My Sign." WCW/nWo Uncensored, Mobile, Alabama. Inside the sign was a stop sign which Raven used as a weapon against Diamond Dallas Page. This angle originated during Raven's stint in ECW. It occurred during a match with Tommy Dreamer at House Party '96 at ECW Arena in Philadelphia (01/05/96). During the match, Sign Guy Dudley handed the same weapon to Dreamer who proceeded to use it on Raven. This is another instance where Lodi has taken directly from ECW and the character of Sign Guy Dudley.
03/16/98 "We Luv La Vela." WCW Monday Nitro, Panama City Beach, Florida. This is in reference to the card being held at Club La Vela, which also hosted several segments of MTV's Spring Break editions. This was the second consecutive year La Vela hosted a Nitro (03/10/97). "La Vela" means "the night" in Spanish, hence the title simply means, the night club. Their web site advertises by claiming: "Club La Vela's 400 feet of sugar white sands and 5000 sq ft pool and massive pool deck provide the ultimate beach party experience. 17 bar stations and an awesome grill on the pooldeck, plus an endless array of beach activities, make Club La Vela the beaches #1 destination for food, drink, fun and sun." The spelling of love as "l-u-v" may not only have been used to condense the sign's length but also as a thank you to Eric Bischoff. WCW did not frequent La Vela prior to Bischoff's tenure and Bischoff's catch cliche is "I love you." The Love spelled with a "u" may be a play on Bischoff's line. It is also interesting to note that this is one of the few positive local references made by Lodi. The spelling of Luv, may also be a reference to Luv Mobile Homes, which is based in Jacksonville, and is advertised in some markets during Nitro. This sign and all of his signs on this Nitro were done in red ink and past over his head to Sick Boy who discarded them on his way to the ring. His final sign was the only one to make it to the ring. The signs are listed in their order of appearance.
03/16/98 "Wake Up 2 the Big Show." WCW Monday Nitro, Panama City Beach, Florida. This is another reference to the John Boy and Billy radio program. See the note on the "John Boy and Billy Rock" sign from the 02/16/98 Monday Nitro, for more details. The John Boy and Billy show is also known as the Big Show, hence the URL to their website is http://www.thebigshow.com/.
03/16/98 "Autumn Loves Rhino." WCW Monday Nitro, Panama City Beach, Florida. This has perplexed us. The only wrestling Rhino we know of is Rhino Richards, a Michigan-based independent wrestler, who appears to have no relation to any Autumn. Former Chicago Cubs' second baseman Ryne "Rhino" Sandberg has been married twice, to Cindy and Margaret, but not Autumn. For the record, the rhinoceros mating season is in the spring, not autumn. We also checked the Internet Movie Database and there has never been a movie with the characters Autumn and Rhino in the same flick.
03/16/98 "RF Video." WCW Monday Nitro, Panama City Beach, Florida. RF Video is a company owned by Rob Feinstein (hence the RF) which specializes in wrestling merchandise. The company is perhaps best known to RSPW readers due to Feinstein's flame war with Bob Barnett. Holding this sign is another concept which Lodi has taken directly from ECW's Sign Guy Dudley, who has also promoted Feinstein's company.
03/16/98 "Goldberg is a Meathead" and "Lodi Can Beat Goldberg." WCW Monday Nitro, Panama City Beach, Florida. It is ironic that WCW's sign man would face Bill Goldberg on the date 03/16. This is because when Goldberg debuted, many claimed that he stole his look from WWF star Steve Austin, who has prompted a sign craze of various 3:16 signs. The second sign was written on the back of the first and was never clearly revealed by Lodi to the TV audience though it can be seen upon close inspection. The second sign is ironic because in his 02/21/98 RSPW post titled "Goldberg's first loss should be to...", Bargeld listed the advantages of Lodi defeating Goldberg.
03/19/98 "Kilroy Was Here" painted on his chest. WCW Thursday Thunder, Terre Haute, Indiana. This is in reference to a World War II anecdote. Kilroy was a 46-year old shipyard worker from Halifax, Massachusetts, and during the war, he worked as a checker at the Fore River Shipyard in Quincy. His job was to check on the number of rivets completed. Riveters were paid by the rivet. Kilroy would count a block of rivets and put a check mark in chalk, so the rivets would not be counted twice. When he went off duty, the riveters would erase the mark. Later on, another checker would come through and count the rivets a second time, resulting in double pay for the riveters. One day, Kilroy's boss called him into his office. The foreman was upset about all the wages being paid to riveters, and asked Kilroy to investigate. It was then that he realized what had been going on. The tight spaces he had to crawl in to check the rivets did not lend themselves to lugging around a paint can and brush, so Kilroy decided to stick with chalk. He continued to put his check mark on each job he inspected, but he added "Kilroy was here" in king-size letters next to the check. Once he did that, the riveters stopped wiping away his marks. Ordinarily the rivets and chalk marks would have been covered with paint but with war on, ships were leaving the Quincy yard so fast that there was not time to paint them. As a result, Kilroy's inspection "trademark" was seen by thousands of servicemen who boarded the ships the yard produced. His message apparently appealed to the servicemen, because they picked it up and spread it all over Europe and the South Pacific. Before the conclusion of the war, Kilroy had been everywhere from Berlin to Tokyo.
03/19/98 "Peeking Guy" painted on his back. WCW Thursday Thunder, Terre Haute, Indiana. This may be a reference to conservative Republican Ken Starr who dug deeply into Bill Clinton's past in his Whitewater and Sex Scandal investigations. Many of Lodi's signs appear to be of the anti-Clinton variety and this would be another along those same political lines.
03/19/98 "Rings of Saturn." WCW Thursday Thunder, Terre Haute, Indiana. Lodi featured this sign in a match where Saturn defeated La Parka with the finishing hold mentioned in this sign. He first held this sign on the 12/29/97 edition of Nitro. For further explanation of this sign, see the detailed explanation under that listing. After the La Parka-Saturn bout ended, Lodi insisted that he, not the referee, raise Saturn's hand victoriously. He raised Saturn's hand with his right hand and held the sign with the left.
03/19/98 "Hey Brad - You Better Call Somebody!" WCW Thursday Thunder, Terre Haute, Indiana. This sign appeared during a Brad Armstrong-Raven match. This is in reference to Brad's brother Brian who happens to be half of WWF tag team champions with Billy Gunn as "Road Dog" Jesse James. The "Road Dog" is noted for saying, "You don't know? Your @$$ better call somebody!" Armstrong and WCW refuse to acknowledge Brian's success as evidenced by the "Armstrong Curse" angle. Brian responded to this less than two weeks later at WrestleMania XIV in Boston, Massachusetts (03/29/98), by wearing a shirt which read, "Look Ma, No Curse!"
03/19/98 "Where's Bobby Knight?" and "ISU-Nice Mascot - Ha!" WCW Thursday Thunder, Terre Haute, Indiana. This is a reference to the athletics program of local Indiana State University whose team name (or mascot) is the Sycamores. The first sign makes reference to the coach of the state's premier college basketball program, the Indiana Hoosiers, located in Bloomington, Indiana. Ironically Indiana State's most famous athlete, Larry Bird, originally enrolled at Indiana under the direction of Knight for the 1974-75 season. Citing the enormity of the campus, Bird left and enrolled briefly at Northwood Institute (West Baden, Indiana) but was not comfortable there and neither played nor stayed. He finally found a home at Indiana State and led his Sycamore team to the 1979 NCAA championship game. That same season, Indiana lost twelve games and failed to qualify for the tournament. For more on the career of Larry Bird, check out the Indianapolis Star's Larry Bird Timeline. The Knight reference may also be related to the "Kilroy Was Here" sign painted on his chest. Kilroy and Knight are both associated with the military. Knight coached at Army and is often referred to as the "General." Perhaps, the "Kilroy was here sign" was used in contrast to the "Where's Bobby Knight?" sign to further ridicule local Indiana State. It is implying that Terre Haute, like everywhere else, had Kilroy, but only Bloomington had the invaluable Knight. The names Knight and Kilroy are related as both are six-letter words beginning with K.
03/21/98 "You Got Banged!" WCW Saturday Night. This sign was in reference to Diamond Dallas Page's catch phrase. Lodi, ever timely, raised this sign immediately after Page had suffered a beating at the hands of the Flock. This sign appeared during the main event in which Page and Chris Benoit defeated Hammer and Saturn by disqualification when Raven interfered. Page attempted a pin, but Raven ran in and hit Page with his own U.S. championship belt, which Raven had stolen during an appearance on MTV. The rest of the Flock stormed the ring and began stomping Page. After, Reese connected with a belly-to-back suplex, Lodi added his two cents. This may also be a reference to the fact that Kimberly, DDP's wife, works for WCW and the fact that he can "get banged" whenever he wishes.
03/21/98 "Rings of Saturn." WCW Worldwide. Lodi held this sign as Perry Saturn wrestled Lex Luger. Luger had the advantage until Lodi tripped him. Lodi telegraphed the spot by dropping the sign to set up the move. Luger eventually won the match with the Human Torture Rack.
03/23/98 "2-Nite," "I," "Am," "Luchador Lodi." WCW Monday Nitro, Louisville, Kentucky. Lodi made his traditional ring entrance by carrying a host of signs and dropping one by one to reveal this message. These were done in red ink. The "Luchador Lodi" sign is in reference to his opponent, Psychosis, and was an example of Lodi's effective use of alliteration. Perhaps the strong point of this sign was that studious announcer Mike Tenay took offense saying, "He's about as much a luchador as you are, Tony." Surprisingly, Psychosis played the technico (face) to Lodi's rudo (heel). Psychosis hit a phenomenal spot which Tenay described as a "twisting corkskrew moonsault" to the outside on Lodi. Lodi fans will remember this move for the second-degree sprained ankle he sustained. Apparently Psychosis was a little short coming over or Lodi was a little long waiting to catch him, either way, Lodi came in to catch Psychosis and came down on his right ankle at just the wrong moment, bending the foot inward. Lodi favored the right leg for the last ten seconds of the match Despite the injury, the match continued with Psychosis winning with the guillotine leg drop in 2:55. Ironically, on the 03/14/98 edition of WCW Saturday Night, a fan held a sign that read, "Lodi, the Real Luchador."
03/23/98 "Lodi wins" painted on Lodi's chest. WCW Monday Nitro, Louisville, Kentucky. This could very easily be an example of a homophone as "Lodi wins" immediately brings the question, "When?" Unfortunately, he did not win on this night as he dropped a bout to Psychosis.
03/23/98 "Rush is Right" painted on Lodi's back. WCW Monday Nitro, Louisville, Kentucky. This is in reference to conservative political commentator Rush H. Limbaugh III, who has had his radio program syndicated nationally since 1988. What was Rush right about? His website lists among his daily "Pearls of Wisdom" on his radio program for the day of this show: "This President is a sitting joke." Another site listing "Rush Limbaugh's 35 Undeniable Truths", list #34 as "Words mean things." What better role model could a sign man have? This sign, culminated with the "Hug Your Intern" sign which he Lodi displayed on the 02/23/98 Nitro, leads one to believe that Lodi is a Republican. Also this sign has some ambiguity as the Flock traditionally rushes the ring when one of its members is in jeopardy of a loss.
03/23/98 "Wildcats Fear Heels." WCW Monday Nitro, Louisville, Kentucky. This was another reference to the NCAA basketball tournament. Both the local Kentucky Wildcats and Lodi's North Carolina Tar Heels advanced to the national semifinals a day before this event. This was used to incite the local crowd by speaking ill of their team. Lodi appears to be a Tar Heel fan due to this sign and similar signs two weeks earlier (03/09/98). Kentucky won the national championship while Carolina lost to Utah in the national semifinal game. Kentucky basketball players Scott Padgett and Cameron Mills were shown in the front row at this show. The day before this Nitro, each hit clutch three-pointers to help the Kentucky Wildcats defeat the Duke Blue Devils 86-84 to advance to the Final Four. Their appearance at the event was covered in an article by Brett Dawson in The Kentucky Kernel (U. Kentucky) in an article titled "UK stay together in NCAA run." Mills was quoted as saying, "Every time a wrestler would come in the ring, Scott would say, 'I'm bigger than him.'" "He'd say, 'I can take this guy.'" "There probably was some temptation," Kentucky center Nazr Mohammed said, "for Scott to just jump in the ring and do something to get everybody's attention."
04/04/98 "Raven is Cool." WCW Saturday Night. This is one of the few signs that Lodi supported Raven. It is also the only sign in this list that we are uncertain of its date. This is our best estimate.
04/04/98 "Fear Us." WCW Worldwide. Lodi held this sign in match where DDP defeated Saturn with the Diamond Cutter. Schiavone mentioned Lodi's injury to accounted for his absence from active competition. This bout was taped prior to the injury so Lodi showed no ill effects of it during this bout. Schiavone also went out of his way to annoy the smart marks and pretended the show was not pre-taped by making it a point to mention that Lodi was limping due to the injury on Nitro even though he was not limping at all and this match had been taped before the injury. After Saturn was Diamond Cut, Lodi, Kidman and Riggs attempted a run in and all were Diamond Cut for their trouble as well.
04/19/98 "U Stink." WCW Spring Stampede '98, Denver, Colorado. Lodi returned on crutches for this pay-per-view. His crutch was later used in the DDP-Raven bout. John Henry posted this on RSPW on 04/22/98: "In the funny stuff department, I heard elsewhere that WCW paid $2000 to fly Lodi out to Denver (or wherever it was) from Greenville, NC, just to use his crutch. Eric B. has obviously been attending the US Military Budgeting Seminars."
04/19/98 "Raven Is The U.S. Champ." WCW Spring Stampede '98, Denver, Colorado. Lodi may have borrowed this sign from a fan as it was done on yellow poster board. Raven truly was the United States heavyweight champion as he defeated Diamond Dallas Page for the belt at this show. Unfortunately for Raven, he dropped the belt to Bill Goldberg the next night.
05/21/98 "Microsoft Needs Johnnie Cochran." WCW Thursday Thunder, Cleveland, Ohio. Lodi finally returned from his ankle injury. Lodi showed that he had been thinking while away as each sign on this show as new. The Flock entered the arena prior to the live broadcast, unlike their traditional more dramatic entrances. This sign appeared as the camera panned to the Flock during a Yuji Nagata-Ernest "The Cat" Miller in the first match of the show. The sign refers to the Microsoft company which was battling the government over their alleged monopoly of their industry. Cochran was one of the attorneys instrumental in acquitting O.J. Simpson of murder charges on 10/05/95.
05/21/98 "Horace: The Real Man of the Family." WCW Thursday Thunder, Cleveland, Ohio. This sign refers to Flock member Horace Boulder. Boulder was wrestling Juventud Guerrera. Boulder's uncle is Hulk Hogan and many speculate that this is why he has his job at WCW. The sign's greatness stems from its implications that Hogan is not a "real man."
05/21/98 "Raven Made Seinfeld Quit." WCW Thursday Thunder, Cleveland, Ohio. This sign was also held during the Boulder-Guerrera bout. Lodi alluded to the NBC sitcom "Seinfeld" in his 02/19/98 Thunder "Must See Flock Thursday" sign and in his 02/05/98 Thunder "Raven Beats Seinfeld" sign. For further detail, see those signs. It is interesting to note, that all three signs were shown on Thursday, directly opposite the show.
05/21/98 " Fat Fingers The Magician." WCW Thursday Thunder, Cleveland, Ohio. This sign was held on the back of the previous sign during the Boulder - Guerrera match. This sign was on the back of the previous sign regarding "Seinfeld." We are uncertain to who this is referring to. There is a magician named Jimmy fingers who wrote a book titled "Finger Magic." As far as the current WCW roster, the Giant would be the most likely suspect. He has the same ring size (22) as his fellow Aiken, South Carolina, native William "Refrigerator" Perry. As far as magic, at Halloween Havoc 1995, Giant fell to his apparent death from the roof of the Cobo Arena in Detroit, only to return to defeat Hulk Hogan by disqualification later in the card (10/29/95). Can David Copperfield top that?
05/21/98 " Lodi's Back, Thunder Quality (Arrow Up)." WCW Thursday Thunder, Cleveland, Ohio. This sign was also shown during the Horace Boulder - Guerrera bout. It is fitting that he held this sign during a Horace Boulder match, whose matches would not be near as entertaining without some distraction.
05/21/98 " Flock vs. Bulls. We Will Win." WCW Thursday Thunder, Cleveland, Ohio. This is in relation to the Chicago Bulls basketball team who at the time of the sign were two-time defending NBA champions and had a 2-0 lead on the Indiana Pacers in the Eastern conference Finals. Reese was a star college basketball player at Santa Clara, but he was no Michael Jordan.
Lodi is mentioned in other people's signs almost as often as he is in his own. Here is our list of Signs About Lodi:

01/05/98 WCW Monday Nitro: Give Lodi a title Shot!
01/08/98 WCW Thursday Thunder: Lodi Fears Shampoo
01/22/98 WCW Thursday Thunder: Lodi Rules
02/02/98 WCW Monday Nitro: Replace JJ with Lodi
02/05/98 WCW Thursday Thunder: Sting Fears Lodi
02/05/98 WCW Thursday Thunder: Lodi is Illiterate
02/12/98 WCW Thursday Thunder: I Shot My Lodi on Raven
02/23/98 WCW Monday Nitro: Lodi Fears Penmanship
02/26/98 WCW Thursday Thunder: Lodi Rules
03/02/98 WCW Monday Nitro: Tommy Lee Fears Lodi
03/05/98 WCW Thursday Thunder: Lodi: The True Icon
03/07/98 All Star Wrestling house show: Lodi Killed Kenny
03/07/98 All Star Wrestling house show: Lodi Fears Bath
03/14/98 WCW Saturday Night: Lodi, the Real Luchador
03/19/98 WCW Thursday Thunder: I Can Beat Lodi; Lodi Stole My Sign
03/23/98 WCW Monday Nitro: Lodi Sold Me Drugs
05/21/98 WCW Thursday Thunder: Lodi: The Best there Is, Was, and Ever Will Be

This is a list of Lodi matches accompanied by several online commentaries. We did not include DDT Digest commentaries because they are already accessible at this site:
04/03/97-Dangerous Minds (Razen Cain and Curt Cutter) defeated Dave Jericho and David Young. National Championship Wrestling; Sylva, North Carolina.

Alan Barrie: "National Championship Wrestling returned to Sylva, NC for another TV taping on Thursday, April 3rd. Approx. 200 drunken frat boys showed up with a plentiful bounty of foreign objects to hand to the wrestlers, ranging from cookie sheets to frying pans to telephones to air purifiers to gutters to a keg of beer(!)...The show was taped for TV. NCW TV is on WDLB-TV channel 20 in Sylva, NC. The self-righteous SOB's at Andrews Cable took them off the air after one week in Andrews, NC. They just cleared TCI Channel 3 in parts of Indiana and southern Michigan (day and time to be determined), and are talking to stations in North Carolina, Pennsylvania, and Maryland."

05/10/97-Razen Cain beat Wild Child Grunge. Southern Wrestling Association; Elkin, North Carolina at the National Guard Armory.

Alan Barrie: "These two are normally tag team partners (Dangerous Minds), but due to their scheduled opponents no-showing, they decided to wrestle each other to give the fans their money's worth."

10/02/97-Dangerous Minds beat The Heaven's Gate Survivors. National Championship Wrestling; Sylva, North Carolina.

Alan Barrie: "Dangerous Minds, who debuted for NCW several months ago, have spent the last few months at the WCW Power Plant. With the renewed confidence that training with Pez Whatley and Buddy Lee Parker can give you, they defeated the Survivors after a fantastic double team move. Brad Cain lifted one of the Survivors over his shoulder, and Curt Cutter came off the top rope with a devastating clothesline."

10/30/97-C.W. Anderson and Cueball Carmichael (with Vinnie Gambini) beat Dangerous Minds; Southern Championship Wrestling; Raleigh, North Carolina at The Berkeley Cafe.
12/08/97-Chris Benoit squashed Lodi via submission; World Championship Wrestling; Buffalo, New York.
12/12/97-Lodi defeated The Grappler via pinfall. Southern Wrestling Alliance; Virginia.

Shooter McGavin: "Chilly Willy def. Toad (with Lodi of Raven's Nest)...Lodi def. Grappler."

12/22/97-Harlem Heat defeated Lodi and Scotty Riggs as Booker T. pinned Lodi. World Championship Wrestling; Macon Georgia at the Civic Centre.

Jason Dehlinger: "Ooooh. Wow, what a matchup. If they job the Heat to the two freaks, I will be extremely upset. Heenan was still kissing up at the booth. Mike Tenay was brought in early in the match and Bischoff left both Bobby & Mike under the watchful eye of Rick Rude. Lodi got his clock cleaned, getting hit with a Scissor kick, then a Hook kick from Booker T. Billy Kidman looked like he wanted to jump in. Riggs wasn't tagging in at all. Stevie hit a quasi-Death Valley Driver, then tagged in Booker to complete a Big Apple for the win. Riggs was avoiding the tags. Winners: Harlem Heat"
Mike Tyler: "THE MATCH: Bischoff comments, 'That guy is a gold medal in kissing up if it were an Olympic sport.' This doesn't make sense. Why would Heenan side with Hogan's organization unless the nWo is going to turn on Hogan? This makes no sense. Well, I should get to this match. Heat squashes Riggs first. Riggs leaves the ring leaving Lodi to get his posterior kicked. This match is a total squash and waste of time with Harlem Heat not even participating at Starrcade. COMMENTS: Flush Heenan down the toilet. This was uncalled for and stupid. So what happens if nWo doesn't maintain control of Nitro because it surely sucked to this point."
WCW Web Site: "Without the presence of Raven, the Flock continues to flounder. Not that Riggs and Lodi would have had much of a chance against the Heat, 6-time tag champs who are considered by many to be the greatest team in history. In their usual dominating fashion, HH squashed their opponents with a combination of Stevie Ray's force and Booker T's high-kicking fury. When the two brothers set up Lodi for the Harlem Heat-seaker, Riggs abandoned his partner and joined the Flock in the stands. After executing the devastating finisher Booker T pinned Lodi for the victory."

02/11/98 Lodi and Toad defeated Border Patrol (with Gossett) via pinfall. All Star Wrestling; Greenville, North Carolina. Tape can be bought at: http://www.whoowrestling.com/merchandise/asw07.html.

Alan Barrie: "300 or so fans made it in a torrential downpour. The promoter, Greg Price, deserves all the credit in the world for a 'reasonable substitute' par-excellence when one of the featured wrestlers did not appear...They were followed by Lodi (who got a deafening pop) & Toad."

03/07/98-Lodi and Toad defeated Matt Hardy and Venom via pinfall. All Star Wrestling; Washington, North Carolina. Tape can be bought at: http://www.whoowrestling.com/merchandise/asw07.html.

Michael Tyler wrote the following review which can be found at http://home.speedsoft.com/chico/user3/messages/300.html: "Lodi receives a standing ovation upon returning home. Yes, ladies and gentleman, Lodi is not a product of the Power Plant! Surge, also known as one of the Hardy Boys, decides to talk some sense into the redneck inbreed crowd. Surge tries to convince everyone to boo Lodi because he is a member of Raven's Flock and admits himself as a WWF superstar. (He is, but in a jabronie type fashion.) Fans turn on Surge & Venom. Jealousy? I presume? THE MATCH: Toad sports green hair. YES! MEGAJAM! GREEN HAIR! Now all we need is the green eggs and ham! Toad and Venom start the action. Venom is an excellent and agile wrestler for being at 280 lbs. mark. Neither man locks up. Surge calls for Lodi. Surge performs his best Raven imitation. Lodi is insulted and virtually whips Surge through the turnbuckle. Talk about a Surge. Lodi follows up with a backdrop, but wait no, Surge punts Lodi. Surge clotheslines Lodi to the floor. After a huge guardrail whip, Surge drops Lodi on the guardrail jaw first. In the ring, Surge executes a middle rope legdrop. Surge, sounds like something you would drink It is something you could drink! Bad pun, oh, well. Surge misses a top rope moonsault. Lodi fights back and tags in Toad. Hmmm, a pair of four letter words against a pair of five letter words. Must be hooked on profanity! Toad and Venom brawl to the floor. Well, Toad lands a maneuver than Vince could only describe as 'WHAT A MANEUVER!' Toad lands a pescado only to execute a hurricanrana! Holy BEJESUS! Lodi lands a top rope crossbody on Surge causing Surge to hit his head on the guardrail. Meanwhile, Venom reverse guardrail whips Toad. Venom charges and eats a buffet full of cobwebs and splinters and etc. Toad then lands a Asai moonsault from the guardrail. WHOA! It's superkaliofragialistic! A huge Lodi chant echoes throughout the arena. Sounds pretty loud for only 800 people, but the fans in Washington, NC always have foam coming from their mouths. OK, I'm just kidding, only trying to point the fans are really vocal and in to the matches, which is really great. Finally, Toad and Venom brawl in the ring. Yes, we know Tim, the lighting sucks, but it could be worse! Surge & Venom double team Toad. However, Toad ducks a Surge clothesline and executes a hurricanrana on Venom. Folks, that's like Juventud Guerrera executing a hurricanrana on Lex Luger, that's how much of a size differential between Toad and Venom. Lodi tags in and the new faces lands several double team maneuvers. Finally, the faces regain the advantage in a tremendous display of chain wrestling: Toad knees Surge, Lodi executes a knee lift, and finally ends with a Toad legdrop. Warts anyone? Had to slip that one in! Toad attempts a hurricanrana, but goes to the well once to often and finds himself on the wrong end of a Venom powerbomb. Surge lands a crotch shot. WHOO! Lodi grabs a chair only to have it taken away. Toad begins to receive a huge amount of punishment from Surge & Venom. It begins with a mere legdrop from Surge. Toad would score a quick two count on a sunset flip, but otherwise offered very little and no offense. Did I forget to mention Toad is the kitchen table, he's wearing dining table cloth trunks! Table for two anyone? The heels double team Toad while Lodi distracts the referee by complaining. Old traditional Southern face complaining to the referee to allow the heels to perform illegal double teaming maneuvers behind the referee's back. Finally, Toad gains some momentum after reversing a Surge bodyslam into an inverted DDT. Slop drop anyone? This is the right place in the country for slop buckets. Oh, well, I'm terribly mistiming my jokes this week. Well, the chair comes into play. Toad chair shots Venom, but the ever present Surge kicks the chair into Toad's face. In other words, a Van Daminator. Venom scores a two count. Venom then executes a powerbomb with Surge following up with a guillotine legdrop. Great action. Bobby Heenan & Jerry Lawler would love Venom & Surge. Lodi makes the same. Surge then slaps on the Boston crab. Looks like the poor miserable Toad will submit until Lodi makes the SAVE, another four letter word. We have more four letter words than an episode of RAW! Just kidding. The double teaming continued with Venom executing a suplex and Surge landing a moonsault on Toad, but still only manages a two count. HOLY CARAMBA! Finally, the double teaming backfires when Toad lifts his knees up during Venom's moonsault. Venom recuperate first and attempts an Irish whip, but Toad turns into a TA! DA! A Hurricanrana. Eat your heart out Rey Misterio Jr. Lodi finally receives the hot tag. Looks like Lodi has the 'Power of the Warriors!' Lodi cleans house. Lodi then grabs a chair but is stopped by a swift kick to the gut by Surge. To the floor, Toad has a table. Oh, chichiamanaga mamaria! Holy back stab! Toad lands an incredible senton backsplash onto a prone Venom on the table. Holy MACARENA! The table doesn't break. LOL! But in the ring, Lodi DDTs Surge on a chair and scores the victory! LODI WINS! LODI WINS! LODI WINS! COMMENTS: A very good independent tag team match. The last matches shown in their entirety on Wrestling Power from Washington, NC included Rob Van Dam over Gorgeous George III (**1/2) and Steiners over Mr. Hughes & The Barbarian when Barbarian missed a top rope diving headbud thus crashing through a table to the floor in a pinfalls count anywhere match. Tim and Dave gave an excellent suggestion, WCW's undercard wrestlers should wrestle independent shows to gain more in ring time. I agree, as in the case with Kidman."

03/07/98-Disco Inferno defeated Lodi (with Sick Boy) via pinfall; World Championship Wrestling.

Jason Dehlinger: "Example number one why I am against WCW's Nest - Lodi. Stupid as hell. They said that they're going to show that Stuck Mojo thing again. Whoopee. Disco hit the Chartbuster for the win. That'll be one of the last times he uses that move. Winner : the Disco Inferno"
The Raven Fan Site: "Lodi comes out with a bunch of signs. The first one says 'I' second one 'Will' third one 'Beat' forth one 'Disco.' Next sign says 'Lodi #1 chartbuster.' Enter Disco doing his pre-match dance. Lodi holds up chart buster sign again. Flips it around it says 'Disco: Real Bad Nose Job!' Which makes Disco kick Lodi in the stomach twice. Disco takes Lodi to the corner, kicks him in the stomach twice and then sends Lodi to opposite corner. Disco scoop slams Lodi twice. Lodi roles outside and holds his back. Then finally gets back inside. Lodi sends Disco to ropes, elbows Disco in the chest, knocking Disco down. Lodi grabs a sign. One side says 'Disco try dance lessons' the other side says 'Buy Raven's shirts.' Lodi turns, clothesline from Disco. Disco covers for a two count. Disco sends Lodi to the ropes, boot to stomach, then swinging neck-breaker. Disco covers for two count. Disco kicks Lodi in the back three times then picks him up by his hair and throws Lodi on the outside. Disco gets out himself and sends Lodi into the guardrail. Disco gets back in and does a little dance. Lodi back in and he gets scoop slammed again. Disco tries to hit Lodi but misses. Lodi hits him in the back 3 times. Lodi tries to send Disco to the ropes but Disco reverses. Disco misses with clothesline. Lodi hits the ropes and comes back towards Disco. Lodi is lifted into the air, oh man a reversed Atomic Drop. Lodi jumps around like an idiot. Disco turns him around and Chartbuster. Disco covers for the three count."

03/16/98-Bill Goldberg squashed Lodi via pinfall after a Jackhammer. World Championship Wrestling; Panama City, Florida, at Club La Vela.
03/23/98-Psychosis defeated Lodi via pinfall after a guillotine legdrop. World Championship Wrestling; Louisville, Kentucky at Freedom Hall.
Go to the Epilogue...
---