An Exclusive Interview with Rene Goulet

Rene Goulet, circa 1970
Photo from The Canadian Pro Wrestling Page of Fame
If you've been a wrestling fan for less than fifteen years, you probably know Rene Goulet as one of the guys always breaking up extracurricular brawls in the WWF.
If you've been a wrestling fan a little longer than that, you remember Rene as a key player in the WWF when the WWF first started hitting it big in the early 1980s.
You go back before 1980? You'll probably remember Rene Goulet as one of the most well-known professional wrestlers from Canada.
In short, Rene Goulet is a man who wrestled his first professional match in 1957, wrestled regularly until 1984, and worked as a road agent well into the 1990s. That means over 40 years worth of stories.
On June 20th, 2000, I had the privilege of doing a telephone interview with Rene Goulet. We talked for 45 minutes, and I could have listened to his stories for 45 days. I've transcribed the highlights.
For a nice bio on Rene Goulet, see his bio at The Canadian Pro Wrestling Page of Fame
---
First, the vital statistics:
Ring Name: Rene Goulet
Other Ring Name(s) Used: Sgt. Jacques Goulet
Finisher: Scorpion Claw Hold
Pro Debut: 1957
Original Hometown: Quebec City
Current Hometown: Charlotte, NC

---
Bill: I see by your phone number that you live in Charlotte.
Rene: I've lived here for about 20 years now.
Bill: A lot of guys who were big in the 1970s and 1980s seem to live there.
Rene: Oh, yeah, a lot of wrestlers live here. In the days of Crockett when he had his territory here, the territory was large, and Charlotte was a great location to get where you needed to go. It was centrally located. It's got a great airport, and you could get in and out pretty easily. The climate is really nice...it's beautiful. I love it here.
Bill: Yeah, the people that I know who've lived there for a long time talk about it like it's the greatest city in the world.
Rene: Oh, yeah, definitely.
Bill: Let's start at the beginning. Where did the interest in pro wrestling start, as a kid?
Rene: Oh, as a kid, I didn't think about pro wrestling. I was a hockey player. I'm from Quebec City, Canada. And, over there, when you're a kid, you play hockey.
I was a pretty good hockey player, playing Junior at around 18 years old, with dreams of making it to the major leagues. But, back then, the NHL had something like six teams, and I wasn't good enough to make it.
About the age of 21, I was around 190 pounds. At that point, when it looked like I wasn't going to make it into the NHL, I started doing a little boxing. I was doing a lot of sports...at that time in my life, I think I was doing every sport in the world.
Anyway, one day I was sparring with somebody, and the guy told me "Why do you want to be a boxer? You'll wind up being punch-drunk. Why don't you be a wrestler?" That was the first I thought about it.
So, at the time I was into bodybuilding...heavily into the weights. Now, at that time, I did watch wrestling. It was very popular in those days. It was the beginning of TV, so it had to be 195...let's see, I started wrestling in 1956/1957...you look a little bit before that, and wrestling was one of the first things ever that was really popular on TV.
So, I used to go to the wrestling matches on Friday night in Quebec City, and really enjoyed it. Finally, I met this guy who had a gym in Quebec...he was a wrestler...a 160-pound wrestler.
Bill: What was his name?
Rene:. Johnny Michaud. That's how I got started. I started to train over there...I liked it. I worked out with him...we did some amateur wrestling, too.
Finally, he introduced me to Yvon Robert who, at the time, was one of the biggest stars in Canada. Ever heard of him?
Bill: Unfortunately, he was a little before my time.
Rene: Not only was he one of the top stars, but he was involved in the promotion end.
So, that's how I started...he booked me and I had my first match in Quebec City in February or March of 1957.
Bill: Who was the first person you wrestled?
Rene: Believe it or not, the first person I was supposed to wrestle was Mad Dog Vachon.
Bill: Wow!!!
Rene: At the time, they didn't call him the "Mad Dog"...they just called him Maurice Vachon.
I was supposed to wrestle him for my first match in Quebec City and, for some reason, he got hurt or he couldn't make it, so they sent another guy. The guy was Gerard Dugas. The guy was about 210 or 215.
So that was my first big-time pro wrestling match, in my hometown, Quebec City. I made $75. I thought I was a millionaire.
Bill: Wow...that's really good money for those days.
Rene: Oh, yeah. But, then, I had only two or three matches that whole year, that's all I had. [Laughs]
It was pretty tough in those days, too, you know? The local guys had a tough time getting work. The promoters liked to bring in guys from the outside...the States. Always the same story...
But, finally, I made it, I got to wrestle Mad Dog Vachon. From about 1957 to 1962, I was struggling, trying to make it and really break into the business as a local wrestler. I trained for five years...worked hard, trying to get myself ready for when I got that break, you know?
It was tough for us...I couldn't speak a word of English. It was "Yes" and "No" and that's it.
In 1961 or 1962, it was in Montreal, which was always one of the biggest territories in the country...actually, in North America. Eddie Queen was the promoter. During the summer, he in was involved in a co-promotion with Vince McMahon [Sr.] to bring in guys from New York [the WWWF] for co-promoting. I was supposed to get my break at that time...the young French-Canadian...and they were going to bring me back to the States, too.
It worked for about a month, and then one of the guys in Quebec, Eddie Carpentier, had a big car wreck, and they decided they were not going to co-promote anymore. So, there went my big break.
But, I started making a living out of it in 1963 when I went to Minneapolis. Mad Dog Vachon, who'd since become a friend of mine, booked me down there.
Verne Gagne was the promoter, down there, with Wally Carbo, and Verne gave me my name, Rene Goulet. And it was there that I really got started.
Bill: Didn't Verne Gagne start promoting in Minneapolis in the late 1950s?
Rene: Yes.
Bill: So you were there pretty much in the beginning?
Rene: Well, like I said, he had done some promoting before that, but he really hit the big time in 1963. When I got there, he really didn't have that many towns. Minneapolis, St. Paul, Rochester...but every year it was getting better, growing and growing. And I grew with them. I worked with Verne up in Minneapolis for close to ten years. I'd work there, go to another territory, and then come right back in.
Bill: That's pretty incredible...I'd heard that in those days, you'd stay six months in a territory, and then move on and maybe never come back.
Rene: The first time I was in Minneapolis, I was there ten months. I was out about a month, and then I went to work for Joe Dusek in Omaha, Nebraska for about six or seven months, and then I went back to Minneapolis for another year or so. Then I went to Texas, and then I came back. Then I went to California, and then I came back. I went in and out like that for about ten years.
Bill: From beginning to end, how long were you wrestling?
Rene: My last match was in 1984, so that was 27 years as a big-time active wrestler.
Bill: Actually, while doing some research, I found that you were in a Legends Battle Royal in 1987.
Rene: Oh, yeah...that was in the Meadowlands, right? I didn't count that one.
That was really something...all the guys...Lou Thesz, Gene Kiniski...all the guys from the past were there.
Bill: Did you ever get to wrestle Lou Thesz?
Rene: I wrestled him a couple times, but only in tag matches. I never got to wrestle him in a singles match.
Bill: Did you read his book?
Rene: Oh, yeah, I liked it.
Bill: I really enjoyed it, too.
Rene: You know why I liked it? Probably a regular fan wouldn't appreciate it as much, but for a guy like me who's been in the business so long, I know the places, people and things he is talking about.
You know, years ago, when you came into a territory, you had to prove yourself. And, with him as champion, not only did he have to prove himself, but he had to get respect as champion, and he had to take care of himself, too, you know?
You may not believe it, but everything he said in that book is true. I lived a lot of that stuff, and there's no BS in it.
Bill: When you look back at your career, who was the guy that you liked to wrestle the most...the "best wrestler" you ever faced?
Rene: Well, you know, that's a funny question. In my day, in my time, we wouldn't say a guy was a "better wrestler"...we'd say he was a "better worker".
You never really got a chance to have a guy you'd always have good matches with. You wrestled six nights a week, against six different guys. That's how you became good...you didn't go in as if it were a dance.
Sometimes, you didn't even know this guy standing in front of you. Some guys you'd go in against were horrible, and it wasn't just a matter of having a good match, it was a matter of protecting yourself. It was all ad-lib...there was no script. In my time, you went in the ring and you worked. You went from move to move, without having any idea what was coming next.
But, as far as the guys I liked...I worked against everybody. I really enjoyed working with guys like Harley Race, Larry Hennig, Reggie Park, Doug Gilbert, Crusher Lisowski. I had a lot of matches against Mad Dog Vachon...he was great. I wrestled Verne Gagne a lot in Minneapolis...I liked working with Verne. I liked working against the Funks. In fact, I had one of Terry Funk's first matches. Pat Patterson...Ray Stevens in California. Kiniski...Don Leo Jonathon. There's just so many.
When I was in New York the first time in 1971, they partnered me with Karl Gotch.
Bill: Tag team champions, right?
Rene: Yes...we beat Tarzan Tyler and Luke Graham. All those guys at the time were great.
Even though I spent so much time in New York, unfortunately I never had the chance to wrestle Bruno [Sammartino] in a singles match...only in tag matches. When I look back on my early days in New York, I think of Gino [Gorilla] Monsoon...God, what a powerful man.
Bill: When I read up on the history , everything says that he was "The Man" back then.
Rene: Oh, he was unbelievable. He was like 450 pounds. He was tough and powerful...very, very strong.
But, you know, you asked who I like...everyone in those days was a worker, if you know what I mean.
Bill: Did you ever go to Japan?
Rene: Oh, yeah. You go to wrestle there, every match is a battle. Those guys work pretty stiff, as well as the fact that they work different. But everything was good, though.
Bill: Did you know that, according to the record books, you are the first guy to beat Ric Flair? You wrestled him in his second match, and his first match was a draw.
Rene: Oh, yeah, I knew that. Ric started in 1972 in Minneapolis...he was about 275 pounds then.
Bill: I've seen those pictures from back then...he doesn't even look like the same guy.
Rene: Oh, yeah...it's unbelievable. You look back then and you look today...well [laughs], he's obviously older, but he looks like a different guy.
When he came down after Minneapolis, he got his first break here in North Carolina because they needed a lot of new talent. Ric was just a kid at the time. He'd been broken into the business by Verne Gagne, at his training camp.
There were a lot of guys who had their first, or one of their first, matches with me...The Iron Sheik, Jim Brunzell, Greg Gagne, Ken Patera. Ken Patera was about 335 pounds back then, too.
A guy who had his very first match with me was Chris Taylor, the bronze Olympian who became a wrestler and, unfortunately, died at a young age [Editor's Note: Chris Taylor died 6/30/79, at the age of 29]. The funny thing about that first match was that when, at the end, he picked me up and put me in a bear hug, the picture of me in the bear hug wound up being a full page picture in a story featured on the cover of People Magazine...and it was like their second or third issue.
Bill: Do you have a copy?
Rene: I used to, but I lost the damn thing.
[Editor's note: A few months after the interview, I was able to find a copy of this issue and give it to Rene. It was the March 11, 1974 issue. Click the picture below for a larger version of the photo.]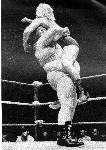 Bill: It's interesting, because someone sent me an e-mail with a quote from Chris Taylor. Shortly after that match, Chris Taylor went on the "Tomorrow" show with Tom Snyder to discuss professional wrestling. Taylor said about that first match:
"If pro wrestling is fake, I sure wish somebody would have told that other guy [Rene Goulet]."
Rene: [laughs] I'll tell you a story about Chris Taylor. He'd just gotten out of the Olympics, and he was a big guy, like over 400 pounds, and, as a result, his pro wrestling matches wouldn't go very long. They would be like thirty or forty seconds...maybe two minutes.
So, his first battle royal was part of a two-ring battle royal. Verne Gagne invented the two-ring battle royal, doing it the first time in Minneapolis. He used to hold it once a year, in Chicago.
Anyway, this battle royal with Chris Taylor was on ABC's Wide World of Sports. [starts chuckling] I remember this because I was in the battle royal, too. The last two guys in it were Mad Dog Vachon and Chris Taylor. And, Mad Dog Vachon, you know, he was tough. Not the biggest man in the world but, boy, was he a tough son of a gun. Plus, he could wrestle...he went to the Olympics, the Empire Games...he was unbelievable.
So, it's Mad Dog and Chris. And Mad Dog is all over Chris Taylor...Chris is bleeding from the nose...the poor guy's been in the ring for over twenty minutes. And [starts laughing] Mad Dog starts biting Chris Taylor's nose, and Chris is bleeding everywhere!
Chris Taylor won the battle royal, but Mad Dog won the battle. I thought that poor kid was going to die!
Bill: Now, you were pretty close to Andre The Giant, right? I remember seeing you interviewed for his A&E biography...
Rene: Oh, yeah...I first met Andre when he first came to Canada from France in 1971 or 1972. They'd just started a new promotion in Montreal, Grand Prix Wrestling, started by Maurice Vachon, Paul Vachon, and a couple other guys.
Andre was being billed at the time as Jean Ferré...he was not yet known as Andre the Giant. So, they brought him in when this promotion started up, and started to build up to a "Match of the Century" between Andre and Don Leo Jonathon.
So, that's how I first met Andre. I was working in New York, and I had four or five days off, and I went up to Montreal to wrestle and I met Andre in Quebec City, and from there we became good friends and remained good friends until he died. He was a very nice man...a very nice guy...
Bill: I didn't realize until watching the A&E biography what an effort it was for Andre to not really hurt people. I mean, as a fan, he's a big guy and all, but the biography really drove home that he was so big and strong that if he wasn't careful, he could have easily killed someone by accident.
Rene: Oh, yeah! You know, when I first met Andre in 1971 or 1972, he was not 500 pounds. He was like 350, and he was lean. Tall as he was, being that thin, he looked even taller back then. He still had the huge hands, though.
And he moved pretty damn good at that time, too. However, over the years, that disease really started to affect him and he really got big. That disease...I don't know what it is...
Bill: Gigantism?
Rene: Yeah, I think that's it. He just kept getting bigger and bigger. When he died, I think he was well over 500 pounds.
Shit, a guy like that falls on top of you, that's the end of it.
Bill: A while back, you mentioned that you made $75 for your first match. Aside from getting stiffed, what's the least you ever made for wrestling?
Rene: The least I ever made for wrestling was $3.
Bill: Wow!
Rene: Well, I said that $75 was for my first match as a pro wrestler...when I hit the big time with a real promotion. When I first wrestled, it was with the local guys, Sunday night in the basement of the church in Quebec City we got paid $3 for the match.
[laughs]
But that's how I started...and we loved it. We had to love the damn business, to hang around through that. It was like any other sport, you had to starve to death before you make it. It's not like today...some of the guys today come up here and make $100,000 and they can't even lace their own boots. That's the problem.
Bill: One thing about Lou Thesz' book that he really went into over and over was what low-lifes a number of the promoters were. Was it the same in Canada, better, or worse?
Rene: Well, for him it was particularly bad because that was before my time, and it was worse back then.
But, sure, in my time they were bad, like that goddamn Nick Gulas in Tennessee...he was the worst. I never worked for him, and I'm glad I never did. He was robbing the wrestlers blind...he was a thief.
A lot of those promoters were starving the wrestlers...in Florida it was real bad. Eddie Graham, at the time, was the same way, too. Florida was bad because even though they were they thieves, the promoters knew the talent would come anyway because of the nice weather and the beaches.
What I did was I stayed away from the bad ones but, definitely, it was not as bad as the time of Lou Thesz.
Bill: Who were the honest promoters?
Rene: Verne Gagne was the best of them all at that time. And, after that, was in New York with Vince McMahon, Sr. He was really good. As a matter of fact, I made some of my best money there.
Out in California, I worked for Roy Schier and he was good.
Bill: I was looking through some of your match history, and I noticed that when you were in the WWF, you wrestled a lot in Madison Square Garden. I always imagined that wrestling there would be the ultimate for a wrestler. Was that your favorite arena?
Rene: Madison Square Garden was a nice arena. You know, when you first go to New York, you're like "Wow!" when you're wrestling in the Garden in one of the largest cities in the world. You feel like you've really hit the big time. It's a famous arena, and it was always great wrestling in the Garden when it was sold out.
It was a hell of a thrill but, you know, after a while, that particular place was no longer that big a deal. I wrestled Boston, Philadelphia, Washington, San Francisco, Minneapolis-St. Paul...as long as it was sold out, it was great.
Bill: Back in the 1960s, 1970s, and 1980s, was it tough dealing with the fans? Did they give you a hard time?
Rene: It was different back then, because we didn't have the protection they have now. Today, you've got barricades around the ring. You've got an entranceway with barricades, so the wrestler's got a free path to and from the ring.
But in my time, there were some buildings, they were small, and you had to walk through the fans to get to the ring. Even if the fans liked you, they'd all be tapping you on the back, and they'd almost kill you on the way back. You had no protection...there were a few guards in the arena, but that's it.
You had your good guys and bad guys, but in some arenas, let's say you had a white guy wrestling a black guy. In those days, it didn't matter who was good or bad. The white people in the crowd would go after the black guy, and the black people in the crowd would go after the white guy. You had a hard time getting out of the building, and once you were out of the building, you had a hard time getting to your car.
Yeah, it was a lot tougher then than today. Sometimes, on the way out of the ring, you'd get cut with a knife. Sometimes, even in the ring. Like, one time in New York, Blackjack Mulligan got cut during a match against Pedro Morales in the Boston Garden. The guy cut him on the arm and the leg, real bad. And they never even caught the guy. He jumped in the ring, attacked Blackjack, and ran back out into the crowd and got away. Boston was a real tough town.
Another time, I was wrestling a tag match and someone threw a bottle right in the ring and it flew right by my head...and I was a good guy at the time! I could have gotten killed right there...the ring was a dangerous place.
There's a lot more protection today, and the reaction of the fans is totally different today than it was in my time. In my time, they were cheering for the good guys and booing the bad guys. They hated the bad guys' guts. They were ready to kill him, but now they love him.
Bill: Now, you were in New York when the WWF really went big in the 1980s, right?
Rene: Yeah, I was there for the beginning of Vince's new era in the 1980s. You know, the first match that Vince ever put on the USA Network was Tito Santana and me, because they knew we'd have a good match together.
Bill: In the 1980s, on the show Tuesday Night Titans (TNT), didn't you have a feature Cafe Rene?
Rene: You remember that?
Bill: Very vaguely. Could you refresh my memory?
Rene: We had the studio set up like a cafe...with tables, like a restaurant. I was Ché Rene, the restaurant owner. My wife was in the skit, like she was going to cook or some damn thing. We had a guy come out and do magic tricks...it was crazy.
We'd bring the guys out to interview them, and serve them wine and food.
I still have the tape with that on it. I haven't watched it in a long time...I need to pull it out and watch it again.
Bill: TNT was just so great. It was a set up like a regular talk show, and all the wrestlers would come out in character. It was so much fun.
Rene: Oh, yeah, that show was really wonderful...a lot of fun. It was done at Studio One in Baltimore. Do you remember those skits with Don Muraco and Mr. Fuji? They were great.
Bill: That's funny, because Don Muraco is one of the reasons I fell in love with pro wrestling.
Rene: Really?
Bill: Yeah. I wasn't much of a fan of pro wrestling, and a friend dragged me off to a live card. Muraco, who was a bad guy at the time, was in the ring. Some girl about eight years old in the front row held up a sign saying what a bad guy he was. He leaned over the top rope and blew a snot out of his nostril right at her feet.
I was hooked.
Rene: [laughs] You know, the first time I met Don Muraco, he was not even in the wrestling business. I met him in Hawaii...I was wrestling in Hawaii at the time, and he used to come to the gym that I was working out at there.
He looked great at the time. He was really lean and he was also a hell of a surfer. He used to bike to the gym, work out, and then go surfing. Then a few years later, he's in the wrestling business.
Bill: Who from the wrestling business do you still keep in touch with?
Rene: Right here in Charlotte, I've got my friend Tim Woods [Mr. Wrestling]. I keep in touch with Pat Patterson, we're still pretty good friends. Bobby Heenan calls me once in a while...we stay in touch, we're good friends. We actually just talked a couple of days ago. I talk to Gene Okerlund once in a while...we worked together when I was a road agent for the WWF. I see Ric Flair...I work out at one of his gyms. I haven't seen Arn in a while, probably not for a year or so...he used to go to the same gym I went to, but he goes to a different one of Ric's gyms now.
When the guys come into town, I go to the matches and get together with all of them. I went down to a golf tournament in Miami at Doral about two months ago for a golf tournament, and a lot of the guys were there...especially a lot of guys from the WWF. It was good to see them.
You know, really everybody I was friends with, I still consider a friend. But the wrestling business is kind of funny...once you get out of it, you lose touch with everybody in it pretty quickly.

Bill: What are you doing these days?
Rene: I play golf as much as I can. I played this afternoon. I'm not playing tomorrow but I'm playing the next two days after that. I play about four times a week.
I play in a lot of tournaments. Because I was a wrestler, I get the chance to play in a lot of charity tournaments. The one in Miami was really nice. I was recently at a two-day charity tournament in Pennsylvania. I've got three tournaments coming up in July. I do about ten or fifteen a year. They're really great...I get to meet a lot of different people.
Bill: Do you still have a lot of people come up to you and say "I used to watch you wrestle"?
Rene: Oh, yeah, especially up in your area. Pretty much anywhere on the East Coast I get recognized the most. When I was up in Pennsylvania for that tournament, everybody remembered me.
When I wrestled in New York, I got a lot of exposure but, over my career, I wrestled all over the country. No matter where I go it's "I remember you...the Claw!" They remember my finishing hold. It's always a good time when that happens.
Bill: Do you still watch wrestling on TV?
Rene: Oh, yeah. I still watch them. Sometimes, I don't like what I see. I guess if you're not a wrestler, you can sit down and enjoy it all but, for me, some of it is not what I remember, and it seems stupid. You see these guys that are not wrestlers out there in front of the camera, and they have no business being there. They are in charge of the show and in front of the camera and, not only that, but they put themselves in the ring.
I mean, get in the gym and work out and at least get a build, you know? It's awful.
Bill: Who do you think has the better product?
Rene: I think that Vince McMahon's got the best show there is. He's got some tremendous athletes. The Rock is great, and his dad and granddad were in the business and he's a great athlete.
The other company...I don't know. You've got a guy like Goldberg and he is so over, and then he turns bad. Seems like it's ruining a really good thing.
So, I still watch...but I'm not sitting in front of that damn TV for three hours straight on Monday night...I'll tell you that much. [laughs]
Bill: Yeah, I used to do all the writing for my website myself, and it got to be too much.
Rene: When I used to work for the WWF as a road agent, every night we'd have to call in to the office and report and, it's funny, you guys on the Internet would write a better report than I could give over the phone.
Every night...back to the hotel...it's the same damn thing...you've got to go over every match from beginning to end. The Rock did this...the Undertaker did that...and on and on. Then I read the reports on the Internet and I think, "Shit...I should have those guys call in my report and save me the work!"
Bill: Yeah, we like to pretend we're sportswriters.
Rene: When you're a road agent, you run a show, usually with one other agent, and you are responsible for sending the guys to the ring and watching everything the guys do.
But, while you were doing that, somebody comes up and says there's something going on in the dressing room, and you've got to separate a couple of the guys. I had to break up a couple of fights in the dressing room as a road agent. You've got to get in between these two huge guys...holy cow. It's really busy at those shows...there's always something going on.
Bill: Mister Goulet, I could talk to you for hours, but I don't want to keep you.
Rene: It's been my pleasure. You know, when I was up in Pennsylvania, everybody was interested in hearing my stories, and I think it's really great that everyone likes to hear this stuff. I've got more than 35 years worth of stories, and I think it's wonderful that people are interested.
---
Send feedback on this feature to Bill.
---
Back to DDT Digest